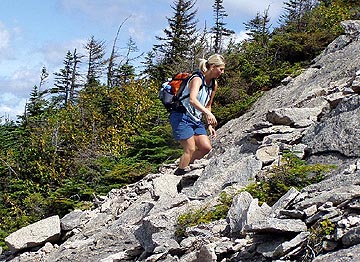 Tripyramids Loop - 04/Sept/2004

The Tripyramids loop is one of my favorite big dayhikes. It's fairly long (13 miles), has two very interesting and challanging slides, two 4000'ers, and great views from the slides and OK views from the summits. Cory and Alex are long distance runners, so I wasn't worried about their ability to do the loop, but the north slide always has the potential to throw people. We carpooled up from Boston, arriving at the Livermore Road trailhead around 8:30 (early start) and were on the trail by 9:00. The weather was looking pretty good so we were expecting a good day. We kept up a fairly good pace on the Livermore Road and took our first break at the junction with the Mt Tripyramid Trail. Cory taped up her foot while we caught our breath and prepared for the climb up the north slide.
The bottom of the slide is fairly closed in and just a little wet. There are a few challanging sections but we all made it past those sections. Eventually, the slide opens up and we got some views of Tecumseh and the Osceolas. The upper part of the slide is a steady slope and fairly impressive. Eventually we were high enough to see over Scar Peak. Looking back down makes you feel like you've accomplished something. The effort is certainly worth it.




We sat down at the top of the slide for lunch. A fellow was hiking the loop in reverse and started down the slide, pausing on a well placed rock for his lunch break. While eating, resting, and hoping our packs wouldn't roll down the slide I took my usual set of pictures; East Osceola, Carrigain, and even Garfield, which we hiked earlier that summer. After the appropriate rest we start up the final push to North Tripyramid, which is wooded and without views. We didn't pause for long, then headed across the ridge to Middle Tri. There we had second lunch over there, just next to the summit view.


The remaining part of the trip was heading over to South Tripyramid and then drop down the South Slide. It's fairly loose scree but we didn't have a problem once we started using gravity. From the bottom of the slide there's a long stretch before you make it back to the Livermore Road and we went on cruise control. Just before getting back to the parklot there's a fine view of the north slide. We had a celebratory beer at the car and headed home with sore legs but happy hearts.


---