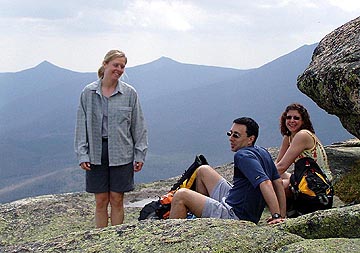 Garfield via the Garfield Trail - 15/May/2004
Not much to write up about this one, just a great dayhike with some friends from Boston. We were looking for an early season warmup hike, and since all the others were long distance runners, I expected to take up the leadership position from the rear. We all commuted up on one car and parked at the Garfield trailhead off the Gale River road. We were on the trail by 10:00AM and after the first stream crossing I let the others take the lead and I had no worries following up from behind. They waited for me when needed and after no time we reached the top!
It was remarkable to me that on this very nice Saturday in Spring, we would have the summit to ourselves for a full hour. We had a leisurely lunch, and relaxed in the sun where we were protected from the wind. There were of course excellent views of South Twin, Galehead Hut, and Owls Head. It's really one of my favorite places for views. Eventually we headed down, taking a fairly relaxed pace for the 10 mile round trip. I ran into a friend at the trail junction, something that is becoming a regular occurance while hiking these days. Another fine day of hiking.


---