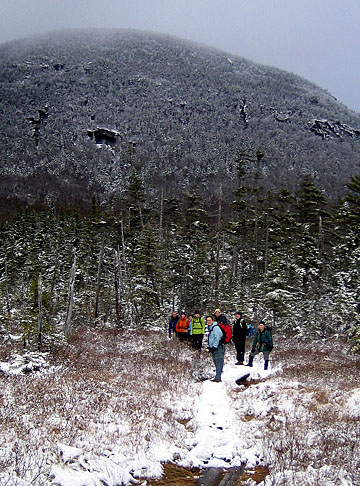 AMC Kinsman Pond trip - 21/Oct/06
Last year at roughly this ame time of year I got some early season skiing just up the road. But this trip had looked like a late leaf season hike up until a day or two before. But the forecast looked a bit ugly, with rain, followed by snow, and then very high winds for Saturday. The plan was to still meet at the Lafayette Place Campground and make our decision there. We had 9 hikers in the group, with Sara and Kristen as our intrepid leaders. The parking lot was covered with snow so we confirmed an earlier decision that we'd talked about last night to go up and back the Lonesome Lake trail instead of Basin-Cascade.




There were a surprising number of cars in the trailhead lot, as many folks were headed up to the hut for a Saturday night stay during caretaker season. We had little trouble with the footing on the way up, but things were a little wet. The trip clockwise around the lake, however, was quite wet and the bridges were often under water. Fortunately we had discussions of plane crashes and tropical travel to keep up distracted. At the hut we stopped in, warmed up, and everyone ate some food. The caretaker suggested that Kinsman Pond would probably be a good destination, the high winds up top making for brutal conditions. After less than half an hour we went back out and started up the Fishin' Jimmy. This section of trail is usually wet, and this day it certainly lived up to that reputation. There were many sections were water was running down the trail, mixed with snow and ice in place. By the time we reached the pinned steps we were all feeling the cold and damp.




The last section before Kinsman Junction was particularly messy, we were concerned a bit about the trip back down. But we figured we'd stop in at the shelter and deal with that later. There were several other groups at the shelter and we all threw on all our clothes for a break. We had lunch and some lovely home-made cookies. After a quick side trip to the pond we started back down. Fortunately, the ice wasn't a problem and we made it down to the hut without incident. There we finished off the cookies and fortified ourself with tea and hot cocoa. For a change we went the otherway around Lonesome Lake and found some submersable puncheons but survived with minor injuries. Back down at the car by 5:00 we all agreed that the Common Man in Ashland was in order. Indeed, it was fine way to begin the winter season.