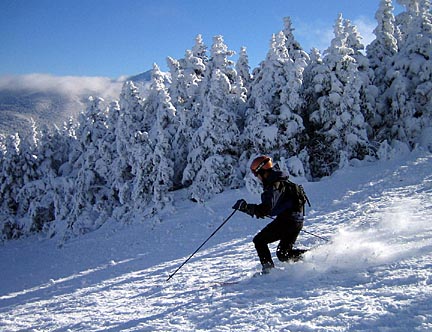 Oct ski day at Cannon - Oct/29/2005
Skiing in October, that's a pretty rare thing in New England. But we'd had a pretty big snow storm on Tuesday and people were reporting two to four feet of snow in places. I had to work all week but could leave early on Saturday morning and had arranged to meet up with Adam at the I-93 Park and Ride. We were headed north by 5:45AM and at the Peabody Lodge parking lot, putting on our boots for our first time on skis for the season. We were the first car there, but a few more arrived soon after, including the folks we'd talked to online.
So off we went, skins on for the first time since April. Adam and I were skinning up, the snowboarders were hiking, and we ran into several other skiers headed up. There were tracks everywhere, but we still could expect to find fresh tracks in places. The rest of our little group decided to stop at the top of the lower chair and do some skiing and riding there and down the front five. Adam and I continued up, not sure if we were going to the summit but expecting to do so. The snow was OK, and we could see some rocks and ice showing through, but the view made it all good.



We got to the top of the tram and went on the deck to get out of the wind. It really felt like winter up there, lots of snow and that crisp smell and feel. We quickly put on a layer, took of skins, and got ready for the trip down. The first few turns were pretty good, and Adam kept his form going well, but my skiing quickly turned to crap. I'm going to blame tired legs from the climb and the occasional rocks we encountered. We met up with a group of 5 headed up who had been skiing the past 5 days. They were probably responsible for a lot of the tracks we could see.



We met up with the other group at the top of the Zoomer chair. They had just skied Zoomer and reported excellent snow, so that's where we decided to finish our top to bottom run. I needed food, so we ate and drank. I felt much better after that. We took a run down Zoomer and had a much better time; the snow was untracked in places and much more consistent. At the bottom we put our skins back on and climbed again. A guy was coming up with a St Bernard on a leash (rope) and we chatted for a bit. I figured out that the pooch was Goliath, I'd run into them on Adams and Jefferson last year in the summer. Small world.



We did one more run on Rocket, had a great time, and decided to call it a day at around 2:00 PM. That was a full day for me, six good hours of skiing. Adam and I both had sore legs so we elected to walk back to the car. We talked with others who were ending their day, turns out I'd skied with them in Gulf of Slides in the spring. Very small world. At the cars we ran into Hilary, a friend from Boston who was also up skiing. Tiny world. First turns in October, life is good.
Here's a short video of the day's fun.
---