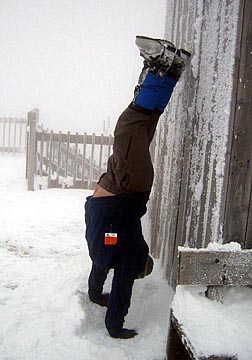 Spring Hike up Cannon - Mar/26/2006
The last time I climbed Cannon was in October, and there was pretty much the same amount of snow on the ground and I was on skis. This was a hike, our first hike of spring, after a weekend of skiing up at Jay. Starting at Bob and Geri's winter place in Bethlehem we got to the trailhead before 8:00 and were on the trail shortly after that. There was snow/ice in the parking lot, so Bob, Christine, and I went with our plastic boots; Geri had already switch to spring mode and was on her leathers. We quickly made it up to the Hi-Cannon Trail and the ice problem began to get a little worse.
There was a steady snow falling, and the extra traction helped. Eventually Geri decided to don her crampons since she couldn't edge as well as we could. At the junction with the Dodge Cut-Off Bob discovered that he'd dropped one of his gloves and took a quick run back to look for it, but no luck. Fortunately he had two other pairs; always have a backup. It was fairly warm so we were hiking in just a few layers, but stopping tending to chill us off quickly so our breaks were pretty short. The ladder was ice-encrusted and I managed to slip at the very top, dropping one ski pole on Bob and nearly dropping myself. Fortunately, I survived.




It's a relatively short hike, only 2.4 miles to the summit so we made it to the top around 11:00 AM. We headed to the tower, climbing up top and hanging around on the observation platform without much observing go on. On a previous hike I had mentioned that I could do a handstand, so Bob and Geri made me demonstrate up top. Fortunately, I could still do one. We dropped down to the top of the ski area and then into the summit restaurant for a luxurious lunch. It was only 11:00 but we had some hot cocoa, dried our gloves and hats on the heaters, and had a relaxed lunch.




After lunch we headed back to the summit, touched the rock underneath the tower, and started down. We elected to take the same route down and it went by quickly. The clouds were lifting a bit and we got some interesting views on up high. Then lower down we got our view of Lonesome Lake and the Kinsmans. We all negotiated the ladder without incident and from there things went quickly to the trailhead. A fine way to start spring.
---