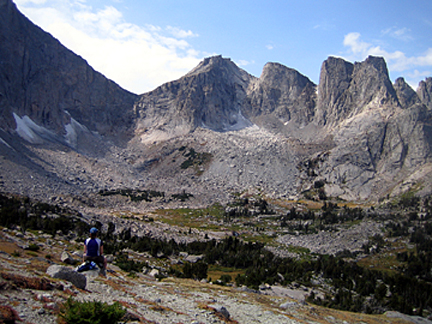 Wind Rivers #1 - Cirque of the Towers overnight - Sep/4-6/2006
Frequent Flyer Miles are great, but they have drawbacks. Once such drawback is flying through Las Vegas, arriving in Salt Lake City at 2:30 AM, which is 4:30 AM Eastern time. Alas, such is life. After picking up the car (a very nice Hyundai Azera, instead of the Ford Focus we paid for) we crashed for the night and did our shopping for fuel at REI and food, then headed off for Wyoming, . We drove east on I-80 then turned north headed for Pinedale. That was going to be our dinner stop before driving to the Big Sandy trailhead. Dinner at the Stockman restaurant (a nice Romanian waiter) and then the roughly 1 hour drive, to the trailhead on mostly dirt roads. It was dark when we got there, and there were dozens of cars! Granted, it was Labor Day weekend, but all those cars were a shock after 30 miles on dirt roads. We set up our tent and called it a night.
In the morning we got a good look at all the cars; I guess we were going to see folks hiking out that day. It took us a while to pack up the food and our gear and start out on the trail. There was a couple headed in with us, but other than them all the traffic was coming out. We were headed into Big Sandy Lake to spend two nights and climb up to Cirque of the Towers on our middle day. It was only a 600' climb on the first day but we were at altitude (the trailhead is 9080') and it was our first day, so the easy day was perfect. The trail up to the lake followed Big Sandy stream up and through meadows.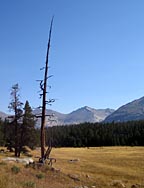 We arrived at the lake after three hours of hiking and headed around to the far end to look for a campsite. As we circled the lake we saw some horses on the far side, galloping around on the trail. There were three of them, one with his saddle around his belly, and no riders on any of them. Behind them we saw a rider coming up riding very hard. Brenda, showing no sense of self-preservation, stepped out in front of the horses and managed to get them to stop. The rider hopped off his horse, limping badly, and took care of the slipped saddle. The horse had thrown him, then stomped on his leg, and the three of them took off headed for the trailhead. The rider had grabbed one of the other horses and took off after them. By the time his friends had caught up the horses had calmed down, the rider was resting, and we took off around the lake.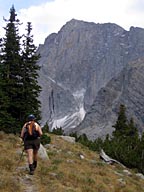 We started looking for a campsite and found a one on a rise over a meadow that had a nice view and fairly easy access to water. It took us 30 minutes to decide on where to camp, and 5 minutes to set up the tent. It was still early so we decided to head up the Big Sandy trail to Deep Lake. We started climbing and for the first time really felt the altitude. As we passed 10,000 feet we seemed to get our wind and came out to the lake. It didn't seem to match the map or the altimiter but it didn't seem to matter much. The terrain was amazing, the lakes were gorgeous, and there were no people. We kept climbing higher and seeing more spectacular views. Eventually we topped out and Brenda decided to climb up the divide to take a look. She noticed the lakes on the other side, we looked at the map, and figured out that we had hiked up the wrong drainage?! Oh well, we hiked over the divide and down the right drainage and things looked much more like the map. The trail down the other side was actually not as good as the herd path that we had climbed. Oh well. Still, no people and we were getting a bit tired, but the hike was well worth any pain. Back to the tent, relaxed a bit then ate our dinner and slept well. Day 1 was over.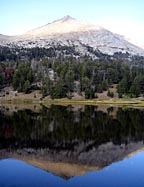 We woke up early and got ready for the hike. This was our big day, we were climbing over Jackass Passto Cirque of the Towers and Lonesome Lake. The climb wasn't huge on paper, just around 1000', but it managed to gain and lose several 100 feet along the way. Then, the damn pass was really two passes, with a fairly major drop in between. I guess we figured out they named it Jackass! Oh well, the climb up was slow and steady, and of course was through wonderful terrain. Temps were fairly warm, it was mostly a shorts and t-shirt sort of day. There were several folks hiking out over the pass, many had been on the trail for a long time, some up to 11 days. We felt kinda weak, only being out for 2 nights, but such is life.
















There is a big drop between the two passes, and frankly, that sucked. We got up to the second half of the pass and the Cirque was finally in front of us. It is a massive cirque with jagged peaks all around, a lovely lake at the base, moose wandering through, and blue skies as far as the eye could see. The couple that we started the hike with the previous day were headed down to Lonesome Lake to spend the night. We found a patch of snow and attempted some boot skiing. Let's just say that our attempts produced much laughter and a bit of pain. We settled down for some lunch and just absorbed the scene and while we knew people were somewhere in the Cirque, we couldn't see or hear them.










During our lunch break we spotted first one, then two moose, feeding in Lonesome Lake well below us. Finally we had finished our rest and decided we needed to go down to the lake and explore a bit. The drop down was pretty quick, and then the trail kind of dead ended and herd paths headed off in a few directions. We actually got separated for a bit, eventually finding each other after a few other hikers noticed two people wandering aimlessly about. We spotted the two moose, now feeding in the inflow stream to the lake. They hung there for a while we watched them, and then wandered to the lake to refill water bottles. Then the climb back up to Jackass, which was slow because we knew that the pass wasn't the end of the climbing.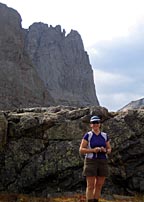 But we made it over the first half, and then the second half, and started down to Big Sandy. Along the way we found a very pleasant pika but otherwise little wildlife. We were tired by then, so we kind of just kept going until we hit the lake. It was nice coming back to a set up camp; we pumped some water for dinner and changed into our cooking clothes. Due to bears we cooked just up the hill from our tentsite and kept our cooking clothes separate from our sleeping clothes. But no bear were spotted and we retired for the night by 9:30.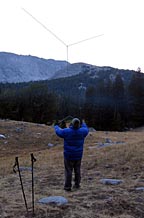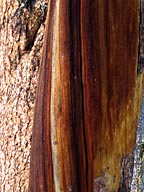 Wednesday was our day to hike out so we didn't really need to rush in the morning. But we woke early and broke camp quickly. We hiked along our side of the lake, there were lots of campsites back there. I bet it was a zoo during the Labor Day weekend. There was a bear box at the far end of the lake, and some well worn areas; I was glad we camped where we did. We took a slightly different route out, past Diamand and V lakes. As we surrounded V Lake a bald eagle launched from a tree and flew right over our heads. We got out to the trailhead and the Twizzlers in our glove compartment by 1:00 and we changed into dry cotton clothes. As we drove out we got stuck behind a very large flock of sheep for 15-20 minutes until a road grader came through and we snuck by in its wake. We found out that Pinedale was the heart of an oil and gas boom and nearly all hotel rooms were booked. We finally found a place, a laundry, a gear store, and brew pub, in that order. Not a bad night after the backpack.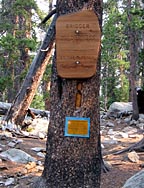 ---