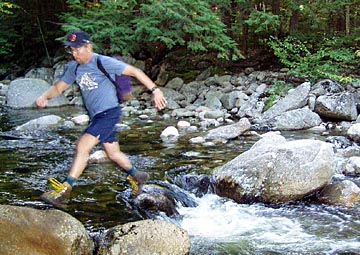 Whiteface via the McCrillis Trail - 19/Sep/2004
I like the idea of hiking up familiar mountains via different trails. For this hike we chose to go up Mt Whiteface via the McCrillis trail. Based on the map it looked like we could play some games with a loop, but the WMG and trail signs mentioned that the connector wasn't in very good shape and could be difficult to follow, so instead we just opted for an up and back.
Brenda, Mike and I got to the trailhead around 9:30 after a fairly leisurely start. There was only a few cars in the lot as we headed up the woods road that starts the trip. There was one good sized stream crossing near the bottom, but we all made it without incident. The trail climbs steadily through some nice woods, with an occasional side trip to a view.
There scenery along side the trail was lush and beautiful, with mushrooms, mosses, and bare rock all mixed into a healthy forest. As we climbed higher we began encountering bare rock, and some pretty major ledges that involved scrambling. Good boot soles is important on this trail. And it is steep, but fun.
Finally we came out on the South Whiteface summit ledges, and the wind picked up a bit. We threw on some layers and sat down for lunch. There were a few folks up top, but we'd only seen one other party on the hike up, and that was just below the top. I'm sure there were more folks headed up Blueberry Ledges but I'd put McCrillis up against it for an enjoyable hike any day. We hung at the south summit for a while, and none of us felt any desire to go to the main summit.
As we finished lunch and got a little cold, we headed back down, tackling the smooth granite with nothing but our wits. Well, that and nice boots and carbide-tipped hiking poles. Nothing much to report from the trip down except for some nice views, exceptional hair, that stream crossing again, and more mushrooms. A nice day for a hike.


---