Mt Washington Hike - On the Summit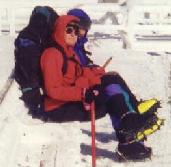 When we reached the summit, we took a short rest to catch our breath. It was perfect conditions, single digits, bright sunshine, very little wind, views in all directions. The trail hits the Auto Road just before the summit and drops you off at the Yankee building, home of the TV and radio transmitters. As we approached, one of the TV station workers was headed out for a walk. Even the people who lived up there were taking advantage of the weather. Right in front of the bench is the wooden staircase that is closed in the winter. After a few minutes we headed over to the true summit.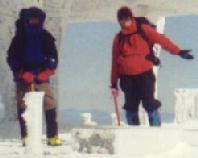 On the way, we passed the end of the cog railroad, right next to the stage building. The ice feathers weren't as long as I'd seen in pictures, but certainly enought to be very pretty. The old summit house was looking a bit chilly, but spectacular as well. I posed Bill and Kathy under the entrance to the Visitors Center for a classic shot, then Bill took a shot of me in front of the old Tip-Top House. Then we did the obligatory summit photo, took one for Bill, and headed onto the observation deck of the Sherman Adams Visitors Center.
From the deck the was a marvelous view of the northern Presidentials, Jefferson, Adams, and Madison. To the northeast you can see the Auto Road, the Cog Railroad, and Nelson Crag. We met one of the Obs volunteers who was enjoying the good weather just like us. The other two hikers were there and we all talked for a bit about the trip up. Looking southwest we could see the Franconia Range, Moosilauke, and the peaks of Vermont.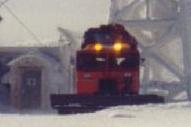 We settled in for lunch on the deck and then wandered around a bit to keep warm. The volunteer from the Obs came back out with fresh baked chocolate chip cookies so we made a cookie toast to the Rock Pile. After he went back inside, I heard a noise and peaked over the edge to see a snow-cat headed up. It drove to the summit and backed under the Visitors Center archway. Apparently, it was hauling up film equipment for a movie. We were getting chilled and it was close to 1:00PM so we decided it was time to head down.
---