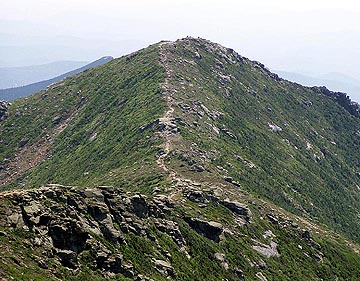 Lafayette via Skookumchuck trail - 1/Aug/2002
OK, before I start, let me say that there are a lot of large images in this trip report. It was my first really nice trip above treeline with my new digital camera, I had plenty of daylight, and I was hiking solo so there was no one around to check my impulse to take many photos. And once I get them on my home PC and I get to look at them all, it's so hard to pick and choose. Still, I'll try and not overload you with too many. I was looking for a trip that I hadn't done recently, and although I was originally planning on Flume Slide I switched to Skookumchuck because I didn't really want to do the slide trail solo. Plus the weather seemed nice enough that I wanted to spend a good deal of time above treeline. I'd summitted Lafayette from Skookumchuck about 7 years ago in January, and gone up to the ridge on my 30th birthday in October, so this was my first time without snow on the ground.
There were only three other cars in the trailhead parking lot, one was a USFS truck. Another hiker pulled in as I was getting ready, and he took off ahead of me. It was already a little hot out, and I was happy to get under tree cover. Near the start of the trail you cross the NH Heritage trail and there's this interesting sign about some cutting that was done a few years earlier. The trail drops down into a stream bed and runs along it for quite a ways. It is very mellow, cool, and pretty. There's also some large sections of rock hopping through muddy sections that were suprisingly wet. All good things must come to an end, and the trail makes a turn to the left and starts climbing. In a matter of 5 minutes I was soaked through with sweat and had to slow down a bit. The rock staircases are very impressive and large. There was also fresh sign of the trail crew having done new rock and wood waterbars. Eventually I came across the two person trailcrew, and the other hiker who had paused to talk with them. I took my first break, talked a while and thanked them for all their great trailwork. Just beyond them there were some great mushrooms that I had to stop and photograph. Beyond that, after leaving another stream bed the trail runs through this wonderful section of woods. It's hard to photograph accurately, but you should definately hike this trail if only for this section.





Above that you get some tantalizing glimpses of the ridge, but it's still quite a ways away. I was actually quite happy to stay in the trees since the temps were getting quite high. Gradually the trees thinned, and eventually I popped out at the ridge. The other hiker had stopped there and was just heading down so I had the place to myself. I stopped and ate a bit of lunch, and drank lots of water. The views were pretty amazing, it was easy to just hang there. Another hiker came up behind me, she said "hi" and continued up the ridge. Eventually I gathered up my pack and started up towards the summit, soon passing the other hiker who had stopped for lunch. I just love hiking along ridges, and this section of Franconia Ridge is (IMO) nicer than the section between Lafayette and Little Haystack. After I crested North Lafayette I saw several hikers headed towards me from the summit. You can also see the summit clearly from here, and the hoards of hikers up there and headed down the Greenleaf trail towards the hut. I had considered going down that way, past Greenleaf Hut and taking the bike path back to my car, but I was glad I had decided against it.









I soon arrived at the summit and dropped pack and looked around. As always, it's a great view from up there. I could hang around there for hours. I took photos, lots of them, but eventually mountains are just mountains. I put the camera away and just let it all soak in, something I should do more often. Finally I pried myself away and headed over to North Lafayette, stopping briefly along the way to relive some gastro-intestinal distress. The summit of N Laf was empty, so I found a nice rock and lay down in the sun and considered the life of Guy Waterman who chose to end his life near here. I kept wondering if this was the last view he had, and what had brought him to this decision. It was very disturbing, thinking about all that, but that's yet another reason to come to the mountains, to contemplate the greater issues of life. North Lafayette will always hold special meaning to me, for that and other reasons. Please treat the area with respect. After a while it was time to move on, so on I went, eventually coming back to fetch my hiking pole. At the Skookumchuck trail junction I met a woman and her son who were going from Galehead to Greenleaf. The son looked exhausted, the mom was loving the hiking, I was headed down.








The trip down was long but relaxing. I had been worried about carrying enough water, but I still had a liter for the descent so I was fine. Just below treeline I met a group of 4 plus 2 dogs headed up to the summit who were planning on looping down the Greenleaf trail. They were going to be out late. The trail crew guys had done more work but had finished and headed down. By the time I dropped down the the first stream bed my legs were sore and I was ready to be out. The final mile or so seems extra long, just like I remembered in in the dark that January afternoon, except no snowmobiles. At the parking lot I dumped my pack, changed clothes, put on my sandels and drank my remaining water. I stopped in at the Old Man for some photos with the new camera then headed to a store to buy half a gallon of Gatorade and food enough to get home. A good choice of a hike for that day.
---