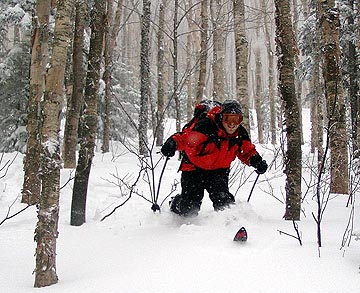 Skiing in NH - 07/Feb/2004
This is another random backcountry ski trip to an isolated place in NH. You'll have to forgive me for not giving out directions our locations, such is life. I met with Nick and Pat near the parking area, then bushwacked on skis for a bit, followed a snowmobile trail, and then back into the woods until we found the place where the route heads up away from the stream. There were tracks already so we didn't have much difficulty following the route. A few folks were skiing down already, they reported that the snow was good, not great, but definately worth the trip. We continued climbing through some steeper sections, observing the downhill tracks before reaching the lower end of the first glade. It looked like it was going to be a good trip back down.
Above the first glade we headed left and on a bench we stopped for our lunch break. It was a cold day, and I was surprised at how quickly I cooled off. We made a platform with our skis and I had my Crazy Creek chair, but it's still difficult to remain warm and dry while eating lunch on a snowy cold day. We finally pulled our our gear together and started out again, up the final glade. The trail made a series of big switchbacks that allowed us to see the terrain before skiing it. We also ran into some friends coming down through the trees. Clearly, the snow conditions weren't spectacular, but they could be skied and we were going to do it, darn it!
We stopped at the top of the glade rather than summitting, since there wasn't much good skiing up higher based on the reports. Instead we stripped off our skins and dropped down into the trees. It was an odd breakable crust that was difficult to ski. Nick did rather well, managing to stay atop the snow fairly well. I broke through, being heavier, but once you built up some speed you could plane on top a bit. No matter what, it was a good time skiing down. At the bottom of the glade we had to cut up a bit to regain the trail. There we met another group shouting into the woods for their missing group member who had probably skied right past the cut over. We left them still yelling into the woods, following the many tracks.
The snow actually got better as we went lower. The lower glades were better, and the snow on either side of the remaining trail was best. Near the river Nick decided to show us a route he had skied before and set off a tiny slide. No harm, no foul. We had a mellow ski out the rest of the way until we rejoined the snowmobile trail and had to keep an eye out for the sleds. All in all a great trip, one I will definately be repeating soon.
After diner at Fayban's Station I headed over to a friend's house in Sugar Hill. Then next morning on my way out I snapped some great shots of Cannon, Franconia Notch, the Presidentials, and more Presidentials. Great views.
---