Passaconaway - 19/Jun/98

The original idea behind this hike was to take Friday off and get a quiet day in the woods, bagging two 4000'ers and enjoying the solitude. Brenda had done the Passaconaway-Whiteface loop but didn't go the extra half mile to get Passaconaway, Allison hadn't done either. We got a fairly late start from Nashua, arriving after 10:00 at the trailhead. The Ferncroft parking area is a bit off the beaten path, but a nice place to start a hike. We had the place all to ourselves.

After a nice walk up the road, past the house, and through the gate, we entered the woods on the Dicey's Mill trail. One thing that was obvious was the severe tree damage from the ice storm of the previous winter. It had been raining the past several days, and stream crossings were high. The trail was muddy in a lot of places and by halfway we were pretty covered in mud. Eventually we made it up to the trail junction with the Rollins trail and then to Camp Rich. The summit is a long .5 miles from here, and it had started to drizzle on and off.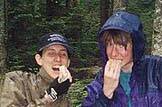 It took a bit longer than I'd remembered to make it to the top. The trail is steep in places, requiring a few scrambles. Eventually we hit the wooded summit and then retired to the ledges for lunch. We had a quick snack before the rain started and we beat a hasty retreat. By the time we hit Camp Rich it was pouring and we were getting cold and hungry, so we set up on a log and had a standing lunch. Doesn't it look like fun. Instead of heading for Mt Whiteface, we decided to just head on down and call it a day. Another rainy 4000'er.
---