Annapurna Circuit, Nepal - Oct 1995
In October/November 1995 I hiked the Annapurna Circuit and Sanctuary in Nepal. The circuit is a 200 mile journey around the Annapurna Himal, up the Marsyangdi River valley to Thorong La, a 17,700' pass, and down to the Khali Gandaki River valley. I also went up to the Annapurna Sanctuary, a high bowl in the middle of the Annapurna Himal, surrounded by 7000 and 8000 meter peaks on all sides. Along the way we traveled through dense bamboo forests, arid mountain villages, high desolate alpine terrain, and saw fields, river valleys, temples, towns, and met wonderful travelers and locals.
Kathmandu 10/5-10/7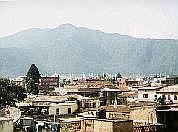 We arrived in Kathmandu on 10/5/95 after spending two unplanned days in Bangkok due to airline problems. Put plenty of extra time in your schedule to be safe. Our group was Catherine, Peter, me, and Sally. From the airport, the van from the Tibet Guest House picked us up and took us to Thamel, the tourist quarter of Kathmandu. We got our trekking permits first thing in the morning the next day (Friday) because everything was closing at noon for a two day holiday. Then we spent some time shopping for clothes and other stuff. The streets are full of shops that sell clothes, t-shirts, jewelry, books, food, and any other thing you can imagine. There are lots of street hawkers selling Gurka knives, Tiger Balm, and drugs. The streets are full of bicycles, rickshaws, cars, and vans. It's exciting.

The city was somewhat overwhelming for me at first. I've never been to southeast Asia before, and the sights, sounds, and smells can be bewildering. But I always felt safe in Thamel. There are westerners everywhere you look, most of the signs are in English, and people are friendly and courteous, for the most part. Some salespeople are pushy, but that's part of the charm. We took a walk to Durbar Square, a collection of temples and shrines. We wandered a bit through non-tourist areas and had a great time.
Pokhara 10/7-10/9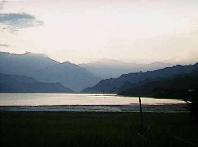 After two days in Kathmandu we headed to Pokhara, the main town in the Annapurna region. The road is narrow, twisty, and poorly paved making sitting in the back seats for six hours a very uncomfortable affair. Make your bus reservations early. Nearly all of the vehicles are TATA buses and trucks, indestructible Indian vehicles that seem identical in their repair schedule and capacity. We stopped for lunch along the way in small town.

We arrived in Pokhara in the late afternoon and arranged a taxi to Lakeside where we found Peter's porter, Dharma, from a trip two years ago. The rest of us were going without porters. Lake Phewa sits on the edge of town, with some views of real big mountains just poking out from behind the hills. The streets of Pokhara have Tibetan women selling jewelry in efficient teams of two. There are many of the same kind of shops as in Kathmandu, but with more trekking goods stores and lots more restaurants.

We needed to spend an extra day in Pokhara before Dharma could leave so we did more shopping and walking around. I walked over to Damside which had some nicer views of Machapuchre (Fish-tail) mountain. On 10/9/95 we got back on a bus to take us to Dumre, where we caught a bus to Besisahar, the starting point of the trek. The bus trip from Dumre (1440') to Besisahar(2700') was just amazing, 150 people on a 40 passenger bus, a road that was no better than a 4-wheel drive path, and half of us had to get out and walk so the bus could make it up the hills. But it was a fun 5 hours. We grabbed a room in a hotel and crashed.
On the Trail: Besisahar to Bahundanda 10/10
Our first day of hiking (10/10/95) was my 32nd birthday. This town was the end of the road and we didn't see motorized vehicles for the next three weeks. We got some nice views of nearby valleys, waterfalls , and a good look back at Besisahar and the terraced rice fields. The trail wound through rice paddies and thick forest, occasionally crossing small and large bamboo bridges.

The trail follows the Marsyangdi Khola for the first half of the circuit. At the next big town, Bhulbhule the trail crosses the river for the first time on a large suspension bridge. It was quite hot and humid, and Catherine and Sally were feeling poorly. They decided to hire a porter, Doot, and let him take half of each of their loads. I ended up being the only one in our group who hiked with a full pack, but I had the most hiking experience of the group.

The second half of the day was easier until the final grunt climb to Bahundanda(4300') that nearly killed us all. We arrived late, and found some beds in one of the few hotels with any left. A cool shower and a nice meal with trekkers from all over made a fine end to the first day on the trail.
Day 2: Bahundanda to Chamje 10/11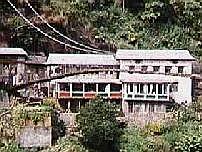 Now we began to get into the rhythm of trekking. Waking up each morning around 7:00, having a quick breakfast of Tibetan bread and tea, then heading out. I usually left earlier than the rest of my group, getting some good hiking done in the cooler morning and taking a bit of rest around 10:30 for them to catch up. This day started with a 600' descent before beginning the days climb. Along the way I observed some great trail construction, and places where the trail ran right across rock slides. A huge amount of work goes into keeping the trail up.

We crossed back over the Marsyangdi and continued through thick forest in a deep valley until reaching Chamje(4560'), a small collection of hotels. We had a hot shower (a bucket of hot water and a cup), a good dinner, and crashed early.
Day 3: Chamje to Bagarchap 10/12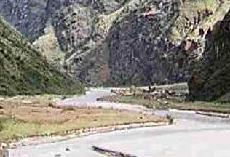 Again, I left early, but my ankle was bothering me a bit, so I walked slowly and the rest of the group soon caught up. We were climbing steadily and soon came to Tal(5460'), which is Nepali for 'lake'. There was a natural dam on the river that formed a small lake with an actual beach, and a nice waterfall on the other end of town. We stopped for an early lunch and I soaked my ankle in the stream, which made it feel much better.

We crossed the river again on a small bridge and climbed to Bagarchap(6900'). The people here were Tibetan, and the town had a huge 4 foot diameter prayer wheel in a gompa with beautiful religious paintings on the walls. There also was a large prayer wheel wall that you spin as you walk past. You always walk past them on the left, so you spin them with your right hand. Never use your left hand.
Day 4: Bagarchap to Chame 10/13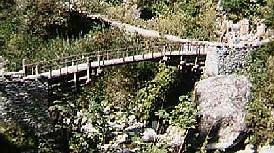 After Bagarchap, we were climbing much higher and into much drier terrain. The trail was headed into the rain shadow of some major peaks, and we were reaching higher altitudes.. The river was getting significantly smaller the higher we went. We also started getting some pretty nice views of major peaks.

Chame(8580') was a pretty major town, with a bank, electricity, and most importantly, a hot spring. It was pretty small and quite crowded, but welcome none the less. From our hotel there was a great view of Lamjung Himal.
Day 5: Chame to Pisang 10/14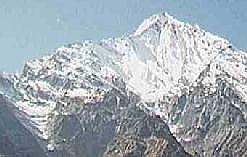 Early the next morning we got more nice views of Lamjung Himal and I headed out early with Doot. I had soaked my ankle the previous night and felt good, but figured I'd start early to make sure. My ankle felt fine, but it could have been the fantastic views of Annapurna II that were helping me along. We gathered together at a small village for a rest and spun the wonderful prayer wall before Sally and I headed out ahead.

This next section of trail was the most spectacular we had seen so far. To start, a big section of the trail was blasted out of the rock. Then, as we turned the corner we saw the Granite Wave, a 2000' cliff of rock that dominated the area. As soon as we got over that we looked behind us and saw fantastic views of Lamjung Himal.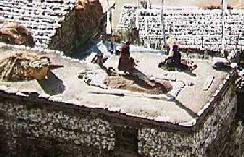 Soon the trail started climbing and then the terrain started to look like the Sierra. Sally and I stopped at this wonderful tea house to eat lunch and take a nap. Catherine, Peter, Doot, and Dharma showed up an hour later and we all pushed on to Pisang. Along the way we got our first glimpse of Pisang Peak.
It was still early so we decided to explore Pisang. We got a hotel in Lower Pisang(10,280') and then hiked up to Upper Pisang(10,600') to see the gompa, a temple at the very top of the town. Upper Pisang was very old, with windy little paths and houses one atop the other. The gompa had a stunning temple that we viewed. From the terrace in front there was an excellent view of Lower Pisang.
Day 6: Pisang to Manang 10/15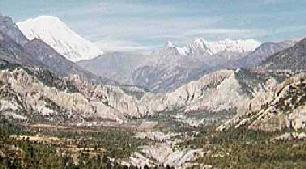 I woke up before dawn and hiked up to Upper Pisang to get some sunrise shots Annapurna II and of Pisang Peak. When I got back to the hotel, everyone else had decided to take a rest day in Pisang. I decided to head on to Manang and take my extra rest day there. There are two routes out of Pisang, and I chose the low route. Just out of town I passed a wonderful stupa, a large Tibetan prayer structure. The trail started off by climbing to a fantastic viewpoint(11,060') of the valley ahead. There were two teashops up top, and some of the girls running them discovered the mascot that I carried in my pack.

The trail then dropped down through some fall foliage that reminded me of New England. I entered a wide flat valley that was much dryer than we'd passed through so far. Mule trains were more common here and we got incredible views back towards Pisang Peak. The next town was Ongre(11,060') which has an airport and the longest prayer wheel wall on the entire circuit, over 250. I spun every single one.

On the final leg of the day I passed a water powered prayer wheel; a fine example of ingenuity. Just before the end of the day, in Braga(11,425') is a 900 year old monastery of the Kargyupa sect of Tibetan Buddhism. I reached Manang(11,480'), found the Yak hotel, attended the Himalayan Rescue Association (HRA) talk on Acute Mountain Sickness (AMS) and settled in for the night with some Irish folks I'd met a few days earlier.
Days 7-9: Manang 10/16-10/18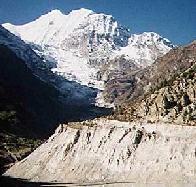 I had two days to relax and to day hike without a full pack. The first day I slept late and then started hiking up the side of Gangapurna. I met Fred and we hiked up some unmarked trails until reaching a beautiful viewpoint looking north. Then the trail climbed through the woods to a neat herder's camp. There we met some other hikers and had lunch, looking back across the Marsyangdi and Manang to the Chulu range. We also got some views north towards Thorong La, the high point of the circuit. We then hiked over to the glacier and down.

My ankle (the other one this time) started hurting on the way down and by the time I reached the hotel I was in real pain. The rest of my group arrived and we settled in. The next day I just sat in the hotel and read to give my ankle a rest and by the end of the day it felt much better. The next morning we were supposed to continue on, but Catherine had a bad headache and was worried about AMS, so Sally and I took another day hike, this time up the left side of the glacier, above the bright blue lake at the base. We scrambled down some scree slopes to get back to town. So, I ended up spending three days in Manang instead of two.
Day 10: Manang to Ledtar 10/19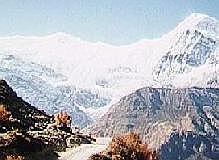 We tried again to leave Manang and this time we succeeded. From here on up, the trail follows the Jargeng Khola, a tributary of the Marsyangdi Khola. We quickly climbed through a few villages to Yak Kharka(13,020') for lunch. The altitude gave us excellent view back towards Glacier Dome. The terrain was a dry flat dry flat plain above the river valley, as we passed twisted mountains.

We reached Ledtar(13,700'), which is a collection of three hotels, nothing else. Before dinner we spotted some Dal sheep on the hillside. Up here is was quite cold, and we could begin to feel the affects of sleeping at altitude.
Day 11: Ledtar to Thorong Phedi 10/20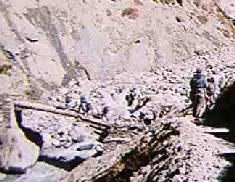 Again, Catherine woke up with a bad headache and wanted to stay another day to acclimatize. Sally and I decided to press on, with plans to meet up with Catherine and Peter on the other side of the pass. If they didn't go over, they would hike back the way we came. We started early because we wanted to get a nice room in Phedi. There's two hotels there, and most of the beds are in dormitory style rooms. The hike continued up the Jargeng Khola, before crossing it for the last time. We climbed to a tea house, past a herd of yaks, including some very large individuals.

It was just a bit farther to Thorong Phedi(14,660'), just two hotels in a sea of scree. The 200' steep climb to the higher hotel was very slow, as the altitude was beginning to really sap our strength. We arrived around 11:00 and got the last double room. Then we ate lunch, rested, and played hacky sack with some folks staying nearby.
Day 12: Phedi to Muktinath, Over Thorong La 10/21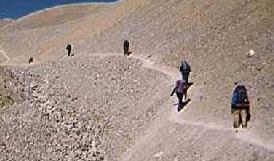 We woke up at 5:00, planning to leave in the dark, but waited until first light, about 5:45. It was quite cold, about 20 F when we started and didn't get much warmer all morning. You could see a long line of trekkers, hiking very slowly up the pass. The views were spectacular. We stopped to rest and have a snack at a tea house half way up. Then we continued the single file march on up. The views of scree and snow just got better, and we all were moving slowly enough to appreciate them.

As we approached the pass, we saw climbers on the peak to the south of the pass. Finally, around 10:30, we made it! Thorong La(17,700') is the transition from the Marsyangdi Khola to the Kali Gandaki, and into the Mustang district. We ate chocolate, took pictures and played hacky sack before starting the 5000' descent. Along the way we stopped at a beautiful hanging meadow for a snooze, then continued on down to Muktinath(12,460'). With one last look back at the pass, we ended our toughest day.
Day 13-14: Muktinath to Kagbeni 10/21-10/22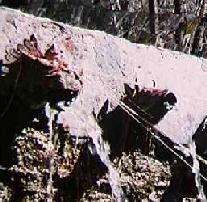 We slept late the next morning, but were woken up by a helicopter carrying very rich Indian tourists up to the temple. Our trip for the day was pretty short, and I wanted to spend some time in the temple complex. The hike up from town provided some spectacular views of Dhaulagiri. The temples are located in a sacred grove of trees.

There's a set of 108 fountains with the spouts carved in the shape of boar's heads. Pilgrims wash in each one to gain salvation after death. The fountains surround a temple full of bells that only Hindus and Buddhists can enter. The most important temple in the complex houses the place where fire (natural gas) burns on water (spring) where they come out of the ground together.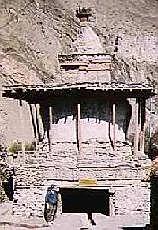 Sally and I headed down the valley which was dry and desolate. As we rounded a bend we had our last view of Thorong La. We passed though some farming areas where the locals stored hay and firewood on the roof. We then caught a view of Kagbeni(9200'), an ancient town that has been involved in the salt trade for thousands of years. It blocks the trade route coming down the Kali Gandaki from Upper Mustang.
If Catherine and Peter were going to catch up to us, we needed to spend a rest day, and Kagbeni was such a wonderful town that this was our choice. We stayed in the Dhaulagiri Hotel, a name we would see in every town on this side of the pass. The town was a jumble of narrow streets and tunnels, all piled on top of each other. There was a large monastery in the center of town. Near our hotel was a huge stupa with a tunnel running under it.
In the afternoon, the winds picked up and you had to go indoors. All the hotels had glassed sun rooms because you couldn't sit on a patio. That night we heard from some folks that Catherine and Peter had made it over the pass, but spent an extra day in Muktinath, throwing our schedule off. We decided to leave them some notes in Kagbeni and push on to the next town where we could spend another rest day if needed.
Days 15-16: Kagbeni to Marpha 10/23-10/24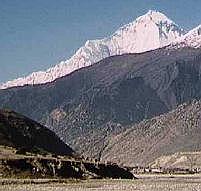 We wanted to get an early start so we could cover a lot of ground before the winds started, around noon. We hiked down the river bed and got some more great views of Dhaulagiri. We reached Jomsom(8900') which has some picturesque streets, very nice restaurants, and an airport. Many people fly into Jomsom and trek down river back to Pokhara.

After lunch, we bundled up to protect from the wind and continued down river. We reached Marpha(8750'), perhaps the nicest trekking town on the whole circuit. We checked into our hotel and ate some more wonderful food. Now I was beginning to see why this part of the trip was known as the Apple Pie Circuit. There were fresh apples, apple brandy, and something resembling pizza.

To let Catherine and Peter catch up we took another rest day in Marpha. The town had a magnificent paved street running down the center with a water culvert underneath. The side streets were narrow but more open than Kagbeni. At one end of town was a beautiful mani wall. The rest of our group arrived that afternoon and we were together again.
Days 17-18: Marpha to Lete to Tatopani 10/25-10/26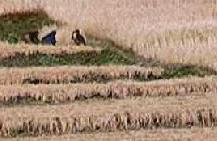 I had decided that I wanted to push on to the Annapurna Sanctuary, which would require 7 days of hard hiking. The rest of the group was going to take it easier, so I was on my own. We hiked together for the morning, past mountain views to the town of Tukche, just below Dhaulagiri. We continued on a bit farther and had and early lunch. Since I still had a long day, I bundled up against the wind and headed out on my own. There were clear views of the Nilgiri Range across the river bottom. As the trail fell, I started seeing more fields and signs of agriculture.

I stopped in the town of Lete (8100') and found myself as the only guest in a large hotel. During dinner that night, two men came in. They had just summited Dhaulagiri and were on their way back home to Bulgaria. We had a nice time communicating as best we could about climbing. The next morning there were excellent view of Daulagiri and Tukche Peak.

I pressed on to Tatopani, my goal for the day. The Kali Gandaki cut deeper as the trail went south. After passing the town of Ghasa (6700'), the old trail was visible on the other side of the river, and it was obvious why it was abandoned. The valley broadened a bit, and I passed a beautiful waterfall.

As I approached Tatopani (3900') the locals were harvesting rice along side the trail. There were banana trees reaching over the trail as I passed the hydro electric plant that supplied power for the region. The name Tatopani means hot water, and there are wonderful hot springs along the river. I fainted after going all day without much food, not drinking enough water, and then taking a dip in the hot springs. Don't try this at home!
Days 19-20: Ghorepani, Poon Hill, and Chomrong 10/27-10/28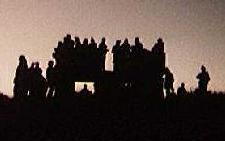 The climb to Ghorepani is around 5000', so I got a good early start and took it easy all day. After a few hours I had climbed out of the deep valley and got some good views back up river. It was hot, so I stopped often for water and snacks. There were people who rented horses for the climb. Both the trekkers and the horses looked miserable, and I ended up finished before them anyways. In the hilly terrain, one of the main crops was corn.

I finally reached Ghorepani (9250') after a long hot day. I checked into a hotel in the center of town, but if I knew better I would have found a place farther up the hill where the views were better. That night we watched a beautiful sunset over Annapurna I and Annapurna South.

It is almost mandatory that you wake up before dawn and climb the 1000 feet to Poon Hill (10,478') so you can see an unobstructed sunrise. So, I woke up at 5:00AM and started up by headlamp. It took 30 minutes or so, and people had started gathering already. As the sun came up we first had a view of Annapurna South, and then the entire Annapurna Himal. I had some friends take a picture of me to remember to occasion. Then Dhaulagiri came fully into view. I highly recommend the experience.

So, it was back down to Ghorepani, eat breakfast, pack up, and start the longest day of the trip. I met up with two other Americans and we started out. We climbed a hill with good views back towards Poon Hill and then dropped down to Deurali (10,160), then climbed up and mostly down to Tadopani (8800'). Along the way we went through thick forests and rough hills. Because this area is more heavily travelled, we saw more guided, tent trekkers and their severely overburdened porters.

We stopped for lunch in Tadopani, with gorgeous views of Machapuchre. But we still had a long way to go, so we headed off, dropping down to a river crossing then up a big climb. Few trekkers go this route, so the trail was much less established. We crossed the side of a hill, pausing to observe the flowers and farms along the way. I finally arrived in Chomrong at around 4:00PM, exhausted but having reached my goal for the day. This was the hardest day of the entire trip, and it meant I would be able to make it to the Sanctuary and out on time. I watched sunset over Annapurna South as I collapsed in my bed.
Days 21-23: The Sanctuary 10/30-11/1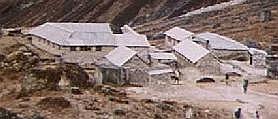 The next day started with a big drop down to the bottom of Chomrong and a big climb up the other side. The valley was steep walled, with some specatular waterfalls cutting through the sheer rock faces. There are a few lodges along the way, but several have been relocated to cut down on the damage to ecosystem. I hooked up with a Swedish woman, Annelie, as we left Chomrong and we hiked together for the next few days.

We spent the night in Himalya, a collection of two guest houses in the middle of nowhere. The next day was a little cloudy, but we had occasional good views up and down the valley. A little after noon we hit Machapuchre Base Camp, or MBC. We stopped for lunch and to get out of the cold. Then pushed on to Annapurna Base Camp, the heart of the santuary. We grabbed the last bunks in a triple room with a ex-pat Brit living in Spain. The crowd was festive, but it was cold and snowing, so we spent most of the afternoon in the main room with a heater cranking under the table and lots of tea.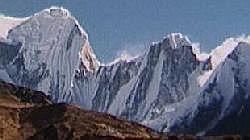 ABC is a collection of stone huts surrounded by mountains and glaciers at around 14,600'. The main peaks right behind ABC are Annapurna South, Annapurna I, and Hinchulli, but you can also see Machapuchre, Tent Peak, and Annapurna III. We spend a raucus Holloween in the dining room, with Marcel playing cards with the porters for money. Too bad he didn't understand the game he was playing. Needless to say, he lost.
The next morning everyone woke up for sunrise, but it wasn't that special, covered with clouds. I got a photo of myself and one of my mascot before leaving. We all hiked a short ways above ABC to get some perspective. Then we headed down as the weather cleared. We saw the high, rocky valley that we'd climbed the day before but couldn't see. We didn't stop at mbc on the way down, but pushed on, back into bamboo forests.
We stopped in Bamboo, the first town inside the santuary. It was nearly a 5000' drop, the same as coming over the pass. Everyone was beat, and no one was sure where we were going the next day. The sanctuary was spectacular, and the weather was clearing again, but everyone felt that we were on our way out, regardless of speed.
Days 24-25: Out to Pokhara 11/2-11/3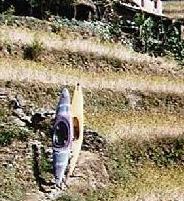 We woke up early and Annelie decided to take it slower. We hiked out to the Santuary checkpoint and then split up. We got some real nice view back to Machupuchre as we bid the Sanctuary goodbye. Ahead of me was the drop and climb to Chomrong, up the most amazing stone steps, climbing 1500' straight up. By the time I reached the top of the hill I was beat. I decided to head out along the river, via a trail that wasn't on any of the maps. Fortunately I ran into two trekkers headed the same way and we joined forces.

First we dropped to the river and the rest of the trip was out along it. The trail was there, but not very heavily used. It brought us to a single lodge in the middle of nowhere, still several hours from the road so we crashed there. The town was called Kyumi and it looks like it was used mostly by big tenting groups. The next days hike out was gentle and relaxing, passing through terraced fields and rice paddies. We did see some porters hauling kayaks for some folks who were going to run the Mondi Khola. We hit the road in Berithanti and caught a taxi back to Pokhara and I was back in the hotel by 2:00. It was a big culture shock, reaching civilization again, and then realizing that Pokhara was now civilization.

The rest of my group arrived later that day. They had made it to all the places they wanted to go, but it was cloudy the day they were on Poon Hill so no one when up. It was a fantastic trip, I'd recommend it to anyone.
---