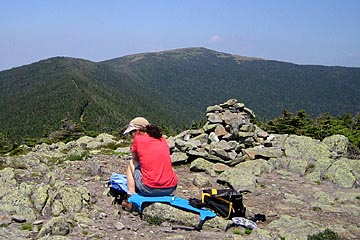 Moosilauke via the old Slide Trail - 25/Jun/2005
This was going to be a casual hike up my favorite mountain on a lovely summer day. It turned out to be something slightly different, still an enjoyable hike but not exactly what I had in mind. Christine and I headed out from Boston and stopped in at MRL, visiting with some of the new residents. With the late start and the long drive, we didn't get on the trail until almost 11:00 AM. We headed up Gorge Brook to where the old Slide trail branches off and into the woods we went. It wasn't hard to find the route and soon we were at the bottom of the slide. It was a nice warm day and we were enjoying the steep climb, stopping to identify birds along the way.
Apparently, it was a bit warmer then I thought. I guess I hadn't fully recovered from a cold and didn't drink enough water, because I started feeling a bit light-headed. While Christine identified warblers and their ilk, I would sit and drink, but my head wasn't really clearing. There's really no shade on the slide and there weren't likely any other hikers coming along so I was a bit worried. It was 12:30, the middle of the day and the sun was strong; I was feeling it pretty badly. After a few rests we made it to the end of the slide, where the trail leads back into the woods. There I rested and took a long sit in the shade. Christine had a frozen water bottle which went a long way to revitalizing me. I carried one on every hike for the rest of the summer. I drank a liter right there.
Once in the woods things were better, but even so we took it slowly. Back on the Carriage Road we set a leisurely pace to South Peak where we had a lunch break. It was a gorgeous day, as usual, so we had plenty of time up top. A nice walk along the ridge brought us to the summit. The summer caretaker was up there, and I showed him the old spring up top which wasn't in the greatest of shape. We took our time descending the Gorge Brook trail in the late afternoon light, I was feeling much better now. At the Lodge we got a few spots for dinner and had a fine evening of food and conversation. It's amazing how a simple dayhike can send you on quite an adventure.





---