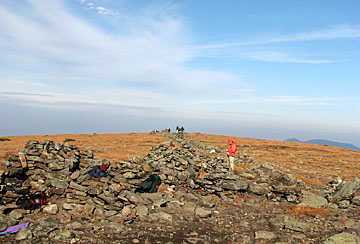 Moosilauke Loop - 11/Nov/06
I hadn't climbed Moosilauke (well at least not all the way to the top) in a full year, which probably is the longest stretch in 20 years. The forecast wasn't great but wasn't horrible, so why not go? I met up with Amy and Chris at the Park & Ride off I-93 and we headed north in the Outback. The trip north went easily, but there was no snow to be seen, sadly. We arrived at the trailhead just after nine (to find a car parked in the middle of the turnaround, argh!) and quickly booted up. It was fairly warm, we probably could have just went with shorts but we expected it to be colder up high. There were half a dozen cars in the lot and a few more folks driving up as we started hiking.
I know the trail pretty well, so we chatted and took our time on the way up. I just bought a new camera (the Canon S3 IS) and this was its test run. So I took a few pictures. We paused at Last Sure Water and observed the Mountain Ash berries that were eye catching. We'd seen a few spots of snow up until then but above 3200' or so there were more patches. It was nothing that would required any traction devices; the snow was soft and not deep. We met a few folks coming down as we passed through the switchbacks, then came out at the Mountain Ash berries.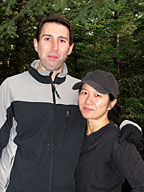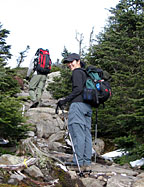 It seemed to get more sunny as the day wore on, and since we were in more open terrain there was less snow. There was considerable haze making the views of Franconia Ridge unspectacular but you could see the Presidentials beyond. As we came out above treeline the sun was bright and the winds not too bad. I just kept the light polypro layer I had on all day, Amy and Chris bundled up a bit more. There were a few groups up top, everyone settled in the hotel foundations to get out of the wind. We ate lunch and relaxed. I never tire of the summit of Moosilauke, it's one of my favorite places in the world. There were people who'd come up all the various trails and everyone reported that snow wasn't an issue. After lunch we packed back up and started across the ridge.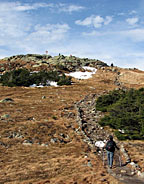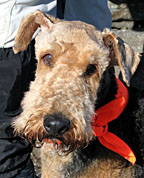 My plantar fasciitis really started to bother me at this point. I hiked rather slowly because the pain in my feet was becoming an issue. A couple of Advil took the edge off, but each step involved at least a little pain. I played with the video mode on the camera and took more shots, but my interest in conversation lagged quite a bit. Once we got to the Carriage Road and the terrain eased up I could go a little faster but still it was awkward. The Snapper trail was actually a bit easier on my feet and Amy's knees and the conversation picked back up. We made it back to the car by 3:30 and headed to The Mountain Wanderer in Lincoln for a bit of book and map shopping before heading to Hermanos in Concord for a fine Mexican meal.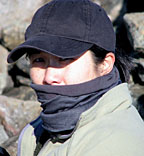 I don't really think that Moosilauke will ever lose interest for me. Even in pain I could easily appreciate her charms. Here's some video from the hike. Think SNOW!