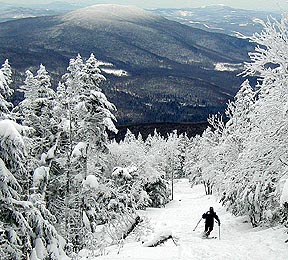 MLK Weekend 2002 - Most of the way up Moosilauke, twice
In the past, a group of friends have gotten together in a cabin on Moosilauke for New Years Eve, followed by a hike or ski to the summit. In recent years, what with families and commitments, it's been harder to organize so we've switched to a gathering on MLK Weekend instead. This year I reserved Great Bear III cabin, on the Glencliff side of the mountain. A group of us planned to meet at the base of the Carriage Road for a Saturday ski. There were quite a few cars in the lot, probably all for skiers and hikers. The snowmobilers don't tend to park there.
We were short one pair of skins, so Ken planned to skiing as far as he could before switching to snowshoes. Andrew was also on snowshoes, the rest of us on skis. After leaving the buzzing snowmachines at the old Moosilauke Inn site we started up in the fresh snow. Several snowmobiles had already gone up this multi-use trail so the trailbed was well compacted. Andrew didn't need to bother with the snowshoes and the rest of us had a pretty easy ski. It's possible to do this trail with just wax or waxless skis, but skins make the trip a bit less strenuous. A few pods of snowmobiles passed us going up and down and we had to contend with the sweet aroma of 2-stroke exhaust, the high-pitched whine, and the occasional threat to life and limb. This is not the biggest selling point of this trail.




Eventually we saw a few skiers coming down, all pretty excited about the good skiing. At the Snapper trail junction we stopped for lunch. Immediately, we felt the cold temps which had been masked by our heavy excersize in the fresh snow. After lunch, Ching and Karen decided to head down while the rest of us would push up higher. We knew we wouldn't summit but the trail opens up above there and the skiing gets a bit more fun. We met skiers on a variety of gear; telemark, alpine, snowblades, and snowboards. There was one poor soul who carried his alipine skis and boots all the way only to find that his bindings had broken and he couldn't ski at all. Serious bummer. A bit higher and you begin to get good views to the south, but the clouds obscured the summit and the peaks to the north. Just below the snowmobile turn-around (they're not allowed on the ridge) we decided to start our descent. The first few turns were shakey but we quickly got acquainted with the snow conditions and skied pretty well. There were a couple of pretty goods skiers up there that day, and the boarder rocked. Once below the Snapper junction it gets tighter and I was glad to have my heavy telemark gear. There were plenty of spills and thrills but Ken, Allison, and I all survived the ride and had fun (movie).



We said our goodbyes at the car as Ken, Karen, and Allison went home to the babysitters and a sick Lafe who missed a fine day of skiing. Ching, Andrew, and I drove around the mountain to the cabin and hiked in. The deep snow and fading light made it a bit of a challange but we found GB without too much wandering. Ridgerunner and two friends were already there, having just finished hiking up Glencliff. They broke trail on snowshoes but with only two pairs among the three of them, he had to turn around at the ridge. Ironic, no? We started a fire, split wood, fetched many gallons of water from the stream and settled in for a fine dinner. Ridgerunner brought photos of his trip to Patagonia which we all enjoyed. The following morning our Canadian trio headed out early for Franconia Notch where they were meeting up with another friend for a hike up Liberty. We lounged about the cabin and finally got organized enought to head up the mountain around 11:00.
With only one pair of snowshoes for the three of us, and hearing the reports from yesterday, we were expecting trouble. But the snow had set up overnight and we bare booted the whole way up. There was plenty of beautiful snow up high, but the weather started to turn a bit nasty as we reached the ridge. Also, we were pretty tired after the previous day's hike. We topped out around 2:45 and elected to call it a day. Two trips, two turnarounds, such is life. We had great hikes, no one complained. The trip down took a little over an hour with lots of boot skiing especially up high. I let Ching and Andrew go on ahead so I could take some photos of the winter scene and animal tracks, and just to enjoy alone time in the winter woods. Back at the cabin we started a fire, napped, and then started getting dinner ready. At around 6:00 there was acommotion outside and in walked Dave with two of his three kids, John and Mara. He had pulled them into the cabin on a toboggan, along with wine and a killer dessert. Such good friends I have. After a leisurely dinner and lots of fun with the kids, Dave and his brood tobogganed off into the night and we settled in for bed. After two trips we weren't going to hike on Monday so we slept in, prepared a robust breakfast, packed up, and headed for home.





---