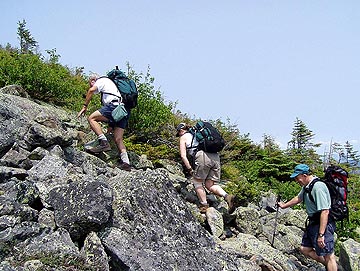 Madison via Scout and Pine Link - 11/Jul/2004
Once again I engaged in an effort to hike up familiar mountains by unfamiliar trails. Mohamed had planned this hike with Mike and Judy, and I checked in just in time to get an invite. We placed a car at the bottom of the Pine Link trail then drove around to Dolly Copp and started putting on boots and getting our packs ready. We were on the trail just after 9:00 and took a fairly slow and steady start as we knew this was going to be a long day. The Daniel Webster Scout trail starts in the Dolly Copp campground and climbs steadily until reaching the area just below treeline, then it seems to get much steeper. We got hit by the heat as we left the shade and made it for some tiring climbing. There was some haze but the views were worth it.
As the trail got into the scrub, it got steeper and rockier. This was a tough trail, and we all felt the effort. Eventually we stopped the very steep work and headed up to the junction with the Osgood Ridge trail, which we could see above us. We could also see hikers on the Howker Ridge trail off in the distance, the first folks we'd seen on the trail this day. But they were far away and we continued our climb. Mike was clearly in the best shape, he kept wandering ahead and then waiting for us like a good boy. Eventually we reached the junction with Osgood Ridge and sat down for a well earned rest. The climb was much tougher than we'd gathered by reading the WMG.




The views from the ridge were as nice as I'd remembered them, taking in the entire Great Gulf. The trail from there up is a series of false summits, and since we'd all been up this trail before you'd think that it wouldn't effect us, but it did. Mohamed decided to try out a new concept in trail markings; the mobile blaze. Sure it'll slow you down a bit, but you'll never get lost. So we kept climbing with the summit never quite in sight. Finally we pulled in at the top, 4000'+ of climbing over rocky, steep terrain. As we sat down for lunch with the handful of folks up top, Mohamed decided that he was going to head down the Valley way because his body was telling him that he wasn't fully recovered from his back injury. He'd wait at Appalachia while we headed down Pine Link to pick up the car there, then back to Dolly Copp for my vehicle. We just hung around and took in the views.



After a fine lunch we waved goodbye and headed back down Osgood Ridge to the junction with the Howker Ridge trail. The Pine Link doesn't actually run over the summit of Madison, it goes to the north, around the summit to Madison Spring Hut, but we didn't want to take that. It's not in great shape and was a bit out of our way. It intersects the Howker Ridge trail down below, and that's where we were headed. The descent was fairly rough, but not as bad as Daniel Webster Scout. You go in and out of the trees, popping out at the various Howks for 360 views. At the lower junction with the Pine Link we met a group headed up who we advised to stay on Pine Link and go straight to the hut if they wanted to make it in time for dinner. They could always to Madison tomorrow. We got our last views to the north as we dropped into the trees for good. The final mile or two seemed to go on forever, by the time we reached the car all three of us were pretty beat. It was a much rougher trip than I imagined but very rewarding. We had more quiet time on a busy Saturday than if we'd taken any other route up Madison.




---