Madison Hut Overnight, Adams and Jefferson - 10-11/Sep/2004
I managed to score a free night at one of the AMC huts, and Madison is the only one I'd never stayed at, so the choice was pretty obvious. Mohamed had a free night too, so we decided to head up there when we both had an open day on our schedules. Unfortunately, the day we started up the rain was falling pretty hard and things were looking pretty grim. As we got to the Valley Way tentsite for a few photos we were already feeling the cold and wet. After a brief rest there we continued on to the hut where we huddled inside with the other wet hikers. The croo directed us to grab a bunk, we changed into warm clothes and settled in for the afternoon. Hot soup rarely tasted so good.
After settling in for the afternoon we met and talked with all the other folks spending the night at the hut. It was a good crowd, with lots of interesting people from all over. There were many thru-hikers and backpackers coming through and with the nasty weather the croo offered them a spot for the night on the kitchen tables. Our dinner was excellent and filling, shared with other hikers who were enjoying the mountains. The rain stopped after dinner, but it was still grey and blustery outside. I was hoping for a nice day for Saturday for my hike out, but it was also 9/11 and Flags on the 48 were going to be out one each summit at noon with US flags. It would be nice if the weather cooperated.


When I woke up it was just barely light out, just before 5:30. I threw on my clothes, grabbed my ever-present camera and headed out to Star Lake to hopefully get some early morning shots. It was just past dawn but the light was excellent. I spent about a half an hour wandering about the lake and snapping shots in all directions. Early morning light is the best there is. Then I headed back to the hut for breakfast.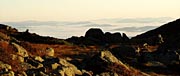 After breakfast I packed and changed for the day. It really looked like an amazing day so I went with just light gear, the most important piece of equipment was going to be my camera. Mohamed was headed out for his own hike, up to Madison then down via a different route so I said my goodbyes and started back out for Star Lake at around 7:00. Most folks were still in the hut so I had the place to myself again. It was still beautiful but in a different way, not the early morning light but the full force of a sunshine day above treeline.


I passed Star Lake and started climbing up to the summit of Adams. As I rose higher and higher, I began to get some great views to the north, looking between Adams and Madison. There was still a lot of valley fog that was slowly burning off, through it the smoke from the paper mill rising. At a certain point the hut came into view and the entire scene was magical. I could hear a few people coming up behind me but they never came into view. The top section before the summit is a scramble in places, and I was kind of hoping to be the first one up top. But others were already there, so I said hi and paused for a bit to take it all in. Already, it was a fine day.



I could see the rest of my day ahead of me. Past Storm Lake, over to Edmands Col, up Jefferson, then down to Appalachia. Just another day in the Presidentials. So, off I went, down to t-storm junction at first. Just before getting there I ran into a fellow hiking with a lovely St Bernard named "Goliath" who was an affectionate if hefty canine. They looked like they were having a fine day as well. On to Edmands Col over my favorite stretch of trail in the Whites. There's something about this section of trail, from Thunderstorm Junction, to Storm Lake, and on to the Col the just captivates me on a nice day.
On up to Jefferson. It was Sept 11, and I was aware of the groups participating the Flags on the 48, an annual event honoring those who died on that day. I was on the summit of Jefferson by noon, but the flag hadn't arrived yet. I could see Frodo's flag on Adams, and it looked magnificent. I still had a bit of work ahead of me so I eventually started down. Met up with Goliath again, he was looking pretty happy to be out there that day. Back down to the col where I had some of the best views and drank some of the best water in the Whites, then down the Randolph Path, through the lovely graded sections up top. It's a nice descent, but long, and by the time I hit Short Line and Airline I was pretty beat. Ran into some Flags on the 48'ers in the lot and we went to the Mooseland for the post hike party.



---