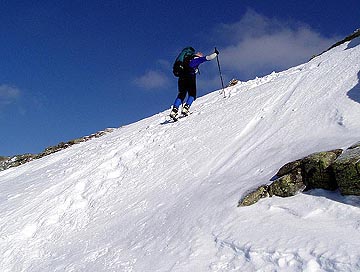 Winter dayhike up Lafayette - 1/Mar/2003
The weather looked great for this hike. It was the first of March and the sun was bright and felt warm on Allison's and my face as we packed up in the parking lot at Lafayette Place. We noticed a group packing up with skis so I asked them their plans. They were going to ski the slides coming down off of Lincoln, ones I'd looked at before but never contemplated skiing. These guys and gal were foolhardy or very good. Possibly both. We wished them well and headed up a few minutes later. We quickly had to delayer because it was so warm hiking while wearing winter gear. We didn't get an especially early start but the weather was so nice we weren't worried. The only issue was Allison hadn't hiked with crampons before, this was going to be her first trip needing them, and I guessed we'd need them.




Having done this hike so many times, I don't really notice the bottom part of the trail until we hit the ledges with a great view of the ridge. We met up with a small group with a very cute dog who turned around there. After grabbing some water we continued up the three miseries which seemed to go by particularly easy this trip. At the small ledge above the steep section known as Red Rocks we looked at the chutes for ski routes but remained astonished. Soon we were cresting the final misery and arrived at the hut. It was particularly beautiful up there this day, very warm sun and almost no wind. Still, we added a few layers of clothes and sat on the porch for some lunch. Several groups were visible above us, working their way up or down, and we chatted with several that passed by the hut. Eventually we packed up again and headed out.




Once above treeline we stopped to put on crampons. Al had never used them before so we went over a few of the basics and we were off. They fell off her boots once (strap on crampons) but were solid after that, which was worrying me a bit since the route is mixed snow/ice/rock. But the views were well worth it. There's one section, about 200 yards below the summit that is a fairly steep snowfield. We got to do some frontpointing here, that was fun. Soon we were over the hump and on the summit. As usual, it was lovely up there. We had the place to ourselves and we'd beaten our turnaround time, which was 2:30, by 15 minutes. Lots of great views, the Pemi and Presies were looking quite spectacular. We waved to Brenda and Jay who were on Washington (they had a great day, too). After only about 20 minutes and one Cliff bar we headed down.








Downhiking on crampons can be interesting, especially if you haven't done it before, but Al had no problems making it down the difficult sections. Our speed was pretty good, so the worry of getting out late disappated quickly and we just enjoyed the descent. There were still quite a few people headed up around 3:00, which was pushing it in my opinion and made it to the hut in short order. There we took off our crampons and relayered for the speedy part of the trip down. We made excellent time down to the ledges and then took some time to try and spot the ski tracks of the people we saw at the base. They came down some very steep terrain, but we saw their tracks so they appear to have made it. Much lower down we saw their tracks come back in to the OBP but they were gone by the time we finished.




---