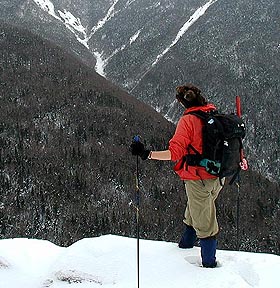 Hiking to Greenleaf Hut and Skiing in Vershire VT - 17-18/Feb/2002
Time for another hike, a need to get out of Boston. My friend Kathy was free on Saturday for a hike and for no apparent reason we settled on the Old Bridle Path to Lafayette. We didn't get organized at the trailhead until 9:30 or so, but we knew the hike well and set out with all our gear. I was wearing my plastic boots, Kathy had her winter Limmers. The trail was well broken out but still quite soft over some ice. When we hit the last major switchback before the ledges we stopped to put on crampons. At the ledges (also refered to as the Busstop) we got a good look at the sky, which was grey but not too threatening. We'd seen one or two groups coming down but no one else going up.

The section known as Red Rocks, a steep rocky chute in summer, was a bit challenging and we were glad to have our ski poles and crampons. At the top of that is a nice view point with great views of Cannon, the Kinsmans, and Moosilauke. I have many, many photos from this spot on this website. The snow was pretty deep up here, if several groups hadn't snowshoed over this new snow it would have been quite the wallow. I really like the setcion known as the Agonies. There's some nice up and down and the area, especially in winter, has a slightly unearthly feel. Eventually we popped out at Greenleaf Hut, always a welcome site even if it's all boarded up for the winter. We stopped for lunch here, and met up with a few folks coming down from the top. I had just gotten back from Florida that Monday, but one guy had me beat by a long shot, he was in the Carribean the day before! This was quite a change.




Lunch was cold. Once we had stopped hiking we chilled off rather quickly. I was begining to feel a bit ill, but figured it was just dehydration and lack of food, so I ate and drank as much as I could. After a break of about 25 minutes we started up higher. Quickly, though, I realized that I wasn't really feeling very well and after about 15 minutes told Kathy that I didn't want to continue up. One of the very nice things about hiking with Kathy is that she is completely non-goal oriented and had absolutely no qualms about turning around. It wasn't a great place to be sick, but turning around does wonders for your psychological health. I took it slowly and took a bunch of pictures of life above treeline.





The trip down was the usual blur of one foot in front of the other. The cloudline had moved down and it was snowing slightly at the base. The drive back to Kathy's house in VT was quite the adventure, she has 4x4 and my car doesn't, leading to a few dicey slides and having to pick a different route to the house because my car couldn't make it up one hill. At home, her hubby Dave had a nice fire going and we settled in for the night. There was about 9" of fresh snow come morning when Kathy snowshoed off to school to teach, Dave had a meeting at 6:00AM! I slept in, the followed Kathy's snowshoe tracks out of town up to the school. It is a very nice commute, I must say.



I met up with the two of them at the school and we commenced to ski back down to their house. Here's where things got fun, the snow was quite excellent, even if the hill could use a little more slope (video). There are a few very nicely located houses along the way and a view east to Moosilauke and Franconia Ridge. When we got to the bottom we decided it was just too much fun, piled in my car and drove back to the school to ski it again. Now we had two cars at the school (Dave's and mine). The second ski was just as good as the first. We explored the farm a bit before heading back over to our previous tracks. Lots of untracked snow. Eventually we ended up at the bottom and headed back over to the house, climbed into the one remaining car and headed back to the school. The sun was warming things up and the snow was getting a bit sticky. Our job was done.
---