Winter Lafayette Dayhike - 1/Feb/98
The day after my solo hike on the Welch-Dickey loop, Brenda, Dave and I went up Lafayette. It turned out to be one of the glorious sunny, warm, winter days with unlimited views, so I can't complain too much. We spent the night at Dave's new house and then drove to the trailhead by 9:00. We were supposed to meet Jen and her friend there, but they had already started up. Dave and I had plastic boots, Brenda was using her fairly worn leather Asolos. We all had crampons and ski poles.

After changing into our boots and packing up, we headed up the Old Bridle Path. Quickly, we stripped down to just polypro and a light fleece layer over that. While we were in the trees, it wasn't bad, but as soon as we hit the first ledges, it was just too hot to keep our shells on. We saw one hiker coming down without a shirt. The views at the Busstop are always wonderful, even more so on this sunny day. A bit farther up, just after Red Rocks, we stopped again for some water and a rest. Then it was a fairly quick jaunt up to the trail junction and Greenleaf Hut. It was just so warm and sunny that we could have taken a nap on the front steps. As tempting as that was, it was even more tempting to get to the top so we could see into the Pemi and Presidentials. So, we grabbed a quick lunch, stretched, took some photos, and pressed on.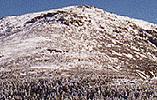 From the hut to the summit the climbing is a little steeper, and there are some snowfields to negotiate. About three-quarters of the way up we ran into Jen and her friend coming down, so we stopped for a chat and some more water. Just before the last false summit there's a tricky snowfield that makes you feel a little uneasy about your footing. But the snow was soft that day and we didn't need crampons. Then, we made it! The views east to the Pemi and Mt Washington were everything we expected. Here are some shots of Owls Head, Carrigain and the Hancocks and the Cannon cliffs. Days like this make you feel completely alive. It was a little chilly up there, but the wind was nearly non-existant so it was easy to stay up there for a while. A lot of the folks we met headed over the ridge for the full loop, but we needed to get back down quickly so we headed back the way we came.

The trip down proved more difficult than we anticipated. Brenda's boots have been worn down over the years and she had a hard time keeping her footing on the icy snowfields. In places we could slide down on our butts, but that wasn't always possible. So, from the summit to the hut took longer than we expected. Once you hit the trees, the snow is a lot easier to deal with and there's no exposure so we picked up the pace. From then it was boot skiing and sliding on our butts, mixed with long periods of quick hiking. When we reached the parking area under the Cannon cliffs, we were pretty burned out from the sun and exertion, but it felt like a perfect spring hike, not a winter expedition.
---