North and South Kinsman Trip - 28/Jun/97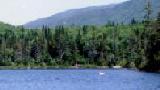 In their continuing quest to get their 4000'ers, a group of friends were looking for a decent sized trip that would get more than one official peak. I hadn't been up the Kinsmans for a while so I suggested this trip and to make the trip a little more interesting, we'd hike out by way of the Kinsman Pond and Cascade Brook trails. We all met at the McDonalds in North Woodstock at 11:00, dropped the cars at the Liberty Springs trailhead and drove to Lafayette Place to start. The parking lot was full and we had to park on the grass.

After a fast start we settled into a good pace and soon reached Lonesome Lake with a view of where we were headed. We headed around the lake, eyeing the cool water on this hot day. I stopped in to look at the kitchen and bunkrooms and therein caused a problem. I had just assumed that everyone stopped at the hut. But they weren't there, so I ran up the trail a ways, thinking they'd gone ahead. Nope, not there. So I went to the beach, with it's excellent view of Franconia Ridge, but they weren't there either. So, I assumed they were really far ahead of me and took off up the Fishin' Jimmy trail as fast as I could go.

It turns out that they had gone around the lake, figured out their mistake, come back to the hut, and started up Fishin' Jimmy behind me. I talked to some people coming down and figured that they must be behind me and they eventually caught up. The trail goes up some steep sections on pinned steps, which are pounded onto metal rods that have been drilled into the rock face. Along the way there were some excellent views of Lafayette and Lincoln and of Liberty and Flume.

After a quick stop at Kinsman Junction, we pushed on to the North Kinsman summit ledges where we stopped for a quick lunch. Naturally there were killer views of Franconia Ridge, Liberty and Flume again, and Cannon. With my new camera I could finally get a nice shot of the whole ridge. After lunch we pushed on the 1.5 miles to the broad summit of South Kinsman. There are good views back to North Kinsman which let you appreciate how quickly the cliffs drop off. We took another break and watched the gliders being towed up from the nearby airport before heading back down.

For the trip down we decide to take the longer route, via the Kinsman Pond trail and Cascade Brook back to our car drop. First stop was the Kinsman Pond shelter, past the caretaker's tent and the tent platforms. We paused for a group photo at the pond and started down. The Kinsman Pond trail runs down a streambed for a big part of its length, making for slow travel. By the time we hit Cascade Brook we were all pretty beat, and a few folks were having knee problems. We sent them down the trail to the Basin and the rest of us hiked out to the cars and drove back to get the other cars and our missing people.
Since we started out late we didn't get out until 7:30, but we also had the summits to ourselves. We could have carried a bit more water for such a hot day but we all survived and enjoyed ourselves.
---