July 4th Weekend, Moriah and Cabot - 3-5/Jul/99
I was hoping to reserve a cabin up north for some July 4th peakbagging and general good times. Just three weeks before the event I managed to reserve on of the DOC cabins that I have access to, and the email invites went out. Since there are several peakbaggers in the group with different peaks remaining on their lists, we didn't expect to all hike together, but enough people needed enough of the same ones that it was going to be fun no matter what.

Map of Moriah hike
Elevation chart of Moriah hike


Most of us arrived on Friday night, and Saturday morning we split up into our groups and headed out. The non-peakbaggers went for the northern Presies via Jefferson Notch, another group went for Hale and Zealand Falls Hut, Ching and Andrew were going to hit something on the way north but a late start did them in. My group (me, Brenda, Jorj, Lafe, and Allison) headed for Moriah, the northern-most peak on the Carter ridge. We first dropped a car in Gorham at the end of the Carter-Moriah trail. This trailhead is near the intersection of Rt 2 and Rt 16, just east of there. Then we drove south on Rt 16 to the Stony Brook trailhead. The trail climbs steadily through some wonderful woods, and we all got hot very quickly, which is the real reason I fell into a stream. Lafe and Al took off, like they usually do, and Brenda, Jorj and I took our time.

Eventually (3.5 miles later) we hit the Carter-Moriah trail junction. It's an unusual trail junction, occuring on boardwalk. The ridge is wet there, and the trailbed is made up of bog bridges built from lumber that was flown up there by helicopter. There are 100's of sections. We headed north and soon climbed up to a series of views to the east and south. There are many false summits on the way up, I didn't remember any of them from my last visit. My advice: don't celebrate until you hit the spur trail junction. We did make it, finding Lafe sleeping on the summit and Allison bouldering her way around. The views were nice, Washington was in and out of the clouds, the northern Presies were a bit grey, but we were in the sun. We grabbed lunch and rested, as did some 4-legged friends we met up there. The actual summit is pretty small, but open. There are a few open ledges nearby if it gets too crowded.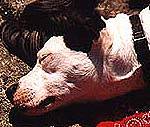 The trip down was pretty much a blur. It's a steep drop up top, with some nice open views along the way, then it ends up following some woods roads for very pleasant journey. We ran out of water just before hitting the car. All in all a great hike, only my second time on Moriah. I highly recommend it.
---
Map of Cabot hike
Elevation chart of Cabot hike


The next day we chose another nearby peak that was on many people's list, Cabot. Unfortunately, my logistical planning didn't quite work out. My idea was to drive three cars to the Cabot trailhead, start some people off, and head the other two cars over to the Unknown Pond trailhead. Those people would drop a car and head back, starting up the trail 45 minute behind us. Here's what actually happened.
I was in the first group (Kathy, Brenda, me, Robert, Elaine, and Jobildunc the dog) who headed up the Mt Cabot trail. We made steady progress through the woods roads that start the trail. There are some steep sections, but for the most part it's a steady climb up some well built trails. At the viewpoint, I met up with some folks who knew of this website and asked for me by name. Very odd. We continued to the Cabot Cabin, expecting Ed and Allison any second. But they didn't show up, so we napped after lunch. And napped. There's a view just up from the cabin and I hung out there for a while until I heard voices. It's Ed and Allison, but they're coming from the wrong side! What happened was it took them 40 minutes just to drive around. They decided to climb from there and meet us up top, but starting so much later than us, it took them a lot longer to arrive. We headed down, leaving Ed and Al to rest up.

The actual summit is a bit further, and has no view whatsoever. It's literally a sign nailed to a tree in the woods. But it's the summit, so that's where we go. On the way down the trail climbs over the Bulge, which also has no view, and there's a spur trail to the Horn. It's only a few tenths, but the view is very nice. There was a tentsite just below the Horn, but no water in sight so pack it in if you go. Only Elaine and I went to the Horn, meaning we now played catch up with the others. We still hadn't seen anyone by the time we reached Unknown Pond, which was gorgeous. The next section of trail is one of the prettiest I've seen in a long time; a sloping journey through well spaced birches, just lovely. We met up with the rest of the folks on the way out and got to the cars pretty tired. Ed and Al followed shortly after and we headed out to the Northland Dairy Bar in Berlin for a snack before heading back to the cabin.
For Monday, we were all beat, so we played miniture golf in Lincoln instead of hiking. It was worth it.
---