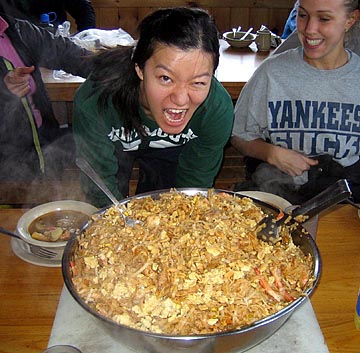 Gourmet Weekend at Greenleaf - 28-30/May/2005
This trip was the brainchild of Seema, who loves hiking, good food, and lots of friends. Not a bad combination, don't you agree? The idea was to gather a lot of friends who enjoy well prepared meals (and are prepared to carry the ingredients) at one of the huts in caretaker season for two great meals of exotic food. We met at the trailhead parking at 9:00 AM under slightly slightly nasty skies. Seema had organized everything into 20 or so 15 lbs bags of food (at least that's what it felt like) and everyone grabbed one. There were also several bottles of wine that had been transfered into water bottles to save weight. After the appropriate amount of dick around, we started up.





As usual in spring, I take pictures of Trillium; it's what I do. We climbed in various groups, some fast and some slow. Just kidding Pat. We regrouped at the ledges with their great views of Franconia Ridge. It looked like the weather was going to be with us, at least for the day. We hung there for a while and then continued up to the hut where we grabbed bunks, and made plans for the afternoon. Meri, Nancy and I decided to run up to the summit of Lafayette, while some others decided to lounge at the hut and uncork some wine.


The hike up to the summit is only 1.4 miles but there's a good chunk of climbing to be done. There had been a few small rainshowers on the way up, so we had extra gear and pack covers. But the skies were clear and we ended up with the best views of the weekend. It was a good time up there, lots of views and relatively mild winds. There was some talk of running over to Lincoln but we decided to rest instead. The Pemi was looking lovely. Eventually we decided to head down to the hut and get ready for dinner.










But first, we had a bit of rest and relaxation on the front porch with some of the wine we had packed up. Ah, the joys of roughing it.




For dinner that evening, Seema had decided to bring the fixings for the largest pad thai ever. It was a massive kitchen undertaking and after we'd finished serving the first servings to everyone we still hadn't broken the plane of the top of the bowl. Uh oh. We started actively pushing the food to everyone else in the hut, somewhat aggressively if I recall. Eventually, we made sufficient progress and it looked like we wouldn't need to carry it back down. Whew! After dinner and a good deal of wine we headed outside to catch a sunset. After a bit more frivolity, we headed to bed.




Sunday we woke up fairly early and got ready for our respective hikes. Meri, Nancy, John and I were headed over to Garfield, others were doing Lafayette and Lincoln, and Kris was headed over to Liberty. After breakfast we headed up to the summit of Lafayette again with the group and then went our separate ways. The trip over North Lafayette and to the junction with Skookumchuck went quickly, then we started the up and down ridge to Garfield. There were several significant patches of snow that didn't cause too much trouble; we even got some boot skiing in. It took us a while to get over to Garfield Pond then we started climbing up to the summit. By the time we got there we were a bit tired but happy about the day. I knew that Seeker was going to climb Garfield that day, and I looked around the summit a bit for her but didn't see her. As it turns out, she was on the other side of the foundations! We were that close, and still I missed her.









On the way back we got some rain, and then we started hearing some thunder. From the Skookumchuck junction back to the hut was pretty much all exposed. Fortunately, the storm had pretty much passed by the time we got above treeline, but it was a few hairy moments until then. Our backup plan was to go down Skookumchuck, follow the bike path to the Greenleaf trail, and take that back to the hut. Good thing we didn't need it. Instead we power hiked up to the summit and then a more leisurely descent to the hut. By the time we got there, dinner prep was underway for a massive Indian dish involving chicken. It was as immense and as wonderful as the previous night. However the weather turned during the night and by the time we got up things were pretty ugly. The hike out was wet and quick, no stopping for pictures but we all had a good time.