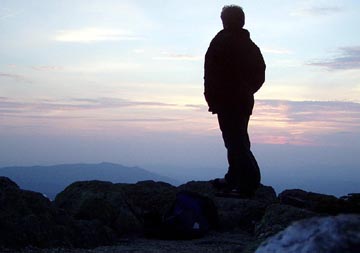 Gray Knob Overnight - 20-21/Aug/2003
While I had some down time between contracts I decided to get away mid-week for some solo hiking in the northern Presidentials as soon as the forecast was for good weather. I managed to time it perfectly, and drove north on a Tuesday morning from Boston to the Bowman trailhead. My plan was to go up the Israel Ridge trail to the Perch, then over to Gray Knob for the night. The next day would be out via Adams and Jefferson, dropping down the Castle trail back to Bowman. On the way up I stopped in at The Mountain Wanderer bookstore in Lincoln, and Steve recommended that I take the short side trip to Emerald Bluff. With that stop I didn't start until around noon, but with a heavy pack and travelling solo on a weekday I just took it slow and easy.
I'd never been up the Israel Ridge trail before so I wasn't quite sure what to expect. Solo hiking isn't for everyone, and often it isn't for me, but I was pretty psyched for this time alone. There's a nice new ladder built by trailcrew in 2002 that makes you wonder how hikers got up here before. Honestly, I don't remember too much about this trail (I'm writing up this trip report nearly a year later) other than it was hot and steep. I only met one other group up near the junction with the Emerald Trail, they said they had only seen a few people on the trails that day. So I dropped pack and headed off to Emerald Bluff which has some excellent views into Castle Ravine and up the headwall. It's really quite an amazing little place, with views into the ravine that you can't get anywhere else.



Pretty much all the vertical gain was done for the day (or so I thought) so I rested there a while then headed over to The Perch, the RMC shelter with four tent platforms and a killer solar powered composting privy. It's one of my favorite places in the mountains. There were some packs there of people who presumably went on to the summits. I decided it was time to mosey on so I packed up again and headed for the Perch Path to the Gray Knob trail. It was more elevation gain than I remembered, but perhaps the full pack was changing my impression. No matter what, it was a spectacular journey with some excellent views back to Jefferson. I went over to Gray Knob and dropped my pack upstairs. No one was there so I headed back to the Quay, then up Lowe's Path a bit to catch some views and above treeline time before dinner.


The caretaker arrived and we dealt with the money, then he headed over to Crag Camp where a bunch of RMC'ers were hanging out for the evening, so I had Gray Knob to myself. I grabbed all my dinner stuff and headed over to the Quay to set up my kitchen. As the sun began setting I just marvelled at being up there to enjoy this view. I spent a great deal of time setting up self-timer portraits, some came out better than others. Just before the sun set I heard a voice coming up the trail, it was another RMC caretaker headed up to take over on the next set of days. She quickly went by, leaving me alone again. After an hour or two hanging out there I headed back to the cabin and chatted with the new caretaker and headed to bed.




The next morning I got up around sunrise and headed out to the Quay to watch the mist burn off in the valley. Then back for a quick breakfast, pack up, and head up to Adams. I was on the trail before 8:00 so there was no other day traffic. The morning was glorious as I hit the summit of Adams IV and took my first break of the day. As the sun cleared Adams there were incredible views across King Ravine towards Madison. Eventually I could pick out Crag Camp and even the Pemi. I suspected the folks at Madison Springs Hut were probably begining to stir so I kept moving. At Thunderstorm Junction I dropped my pack and just hustled up to the summit. Someone was already there but it didn't matter, it was clear, still, and quiet. Makes you feel alive.





Back down to Thunderstorm, pack on back, over towards Edmands. A small group passed me moving quickly, they were doing a Traverse and were making good time. Have I mentioned that this is my favorite section of trail? At Edmands Col I filled up a water bottle from the spring, should have filled up two as I found out later. While filling up I noticed an odd figure approaching from the north. It turned out to be a hut croo from Madison headed out to meet a hut croo from Lakes with the intention of bouldering near Edmands Col (hense the crash pad). The outfit he choice was quite striking, I'm sure his climbing partner appreciated it. Pack back on, up to Jefferson in a bit of a blur. I grabbed some early lunch up there and got my legs ready for the descent down Castilated Ridge, which is all rock hopping. Down and down, rock after rock, I marked each trail junction with some pleasure because it meant I was that much closer to the trailhead. (As you can tell, my legs were a little beat.) Somewhere along the way I lost my favorite hiking hat but all good things must pass. I rationed my water, then ran out somewhere near the junction with the Israel Ridge trail. The last bit of the hike was with two women also coming down from on high, they were the folks at the Perch whose packs I saw while they were up peakbagging. By the time I hit the car I was beat and ready to head home.
---