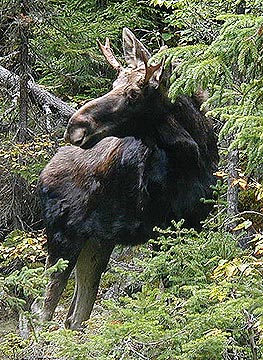 Gathering 4 - Ice Gulch Hike 22-23/Sep/2001
Ah yes, it's summer, and all hikers online turn to the Gathering. It's the culmination of the hiking experience. It's a culinary extraveganza unrivaled in this hemisphere. It's a bunch of folks getting together to eat, drink, and hike. Pretty much what you'd expect from this crowd.



I was recovering from a bad cold, so I didn't drive up until Saturday afternoon. We had chosen the Birches Campground just east of Gorham on Rt 2 for our base of operations this summer. A bunch of folks had done a nice dayhike in the Mahoosucs, I'm pretty sure other folks hiked elsewhere, picking off 100 highests or some such list. We started setting up the tents and creating the dining area with tables, tarps, stoves, and many chairs. Dinner was the usual fare, massive amounts of pasta with meatballs and sausage from Pat and Audrey, bread, salad, wonderful desserts, and libations of choice. We also had several folks bring musical instruments, so after dinner the band kicked in. We were pretty isolated in the campground so we partied well into the night.





The next morning most of us descended on Loaf Around, the best breakfast place in Gorham. We'd decided on a hike to Ice Gulch, mainly because it sounded very interesting and none of us had ever been there. To get there, turn off Rt 2 onto the Raldolph Hill Road and park across the street from the trailhead. There were 10 of us, so we let ourselves get spread out a bit for the first section of the trail. Eventually we arrived at the eastern end of the Gulch, near a fine waterfall. Little did we know that the fun was about to start.
The rest of the Gulch was a difficult journey. It is a narrow ravine, filled with large boulders and just a whisper of an idea of a trail. But on we went. It was late in September, and very hot, but we still managed to find the one small piece of ice left among the rocks. As usual, we split up into groups, and as I popped over one rock one of the people ahead said to stay quiet, there was a moose ahead. This poor moose had slipped down among the rocks and was clearly agitated by our presence. We took some quick photos and some video, then pushed out through the woods to bushwack away from his rocky cell. He climbed up and out, but alas, fell back in as we left. We found out later from the people who came behind us that the moose had climbed back out. Our thoughts are with him.



The intersection with the Cook Path signals the end of the journey through Ice Gulch. From here out it's a nice gentle trip, a few ups and downs but basically a walk in the woods. We hit the road about 3/4 mile from and all walked back to the car. It was a fun but difficult hike, one that you shouldn't take for granted. The field next to the parking area has some wonderful views of the northern Presidentials.


---