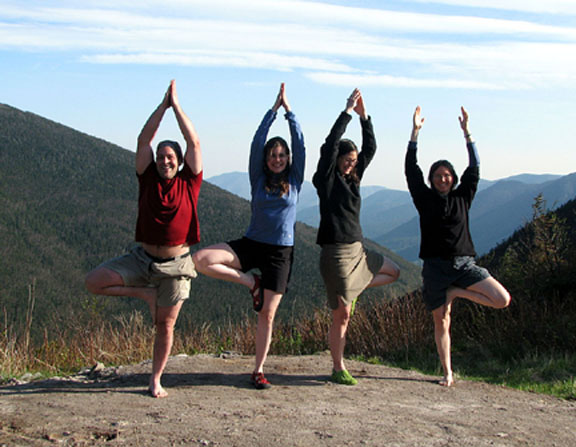 Galehead Group Gourmet Galavant - 26-28/Nov/07
Several years back Seema (the fairy Godmother of this whole shebang), Meri, and JohnS came up with the idea for a gourment hut weekend during caretaker season. We'd have complete run of the kitchen for Seema's gastronmical machinations and lots of fun peakbagging. They held the first on at Galehead with only the three of them, but over the years it blossomed into a much bigger affair. This spring we had 28 people at Galehead Hut for a variety of hiking and eating goals.
As always, we met at the Gale River trailhead at 9:00 AM. Everyone saw a few dead moose on the side of the road on the drive up including a very fresh carcass in the middle of Franconia Notch. The newly engaged Seema and Brian had divided the huge quantity of food into 28 equally heavy bags for us each to carry. In the parking lot there were friends greating friends, congratulations being given, people comparing gear and borrowing insect repellent. After some dicking around the various groups self-selected and started up the 4.6 miles to the hut. One group (MEB, Little Sister, and Drewski) hiked in via Garfield and across the ridge.
It was a hot day and everyone was in shorts and shortsleeves. The first river crossing was without a bridge which was washed away last year and the water level was pretty high. When I arrived I observed people on the other side putting their boots back on so I got ready to take mine off. Just then UFC arrived and just ran across the rocks and managed to stay try, so I followed in his wet footprints and saved 15 minutes or so. On the other side I hooked up with JohnS, Meri, and Nancy, my compatriots from gourmet weekends past. At the second crossing (which was less favorable to those of us with short legs) we all elected to go across in sandles. The cold water felt pretty good, actually. On the climb up we were playing leapfrog with another group from AMC Naragansett Chapter.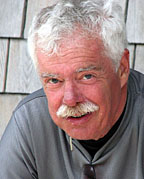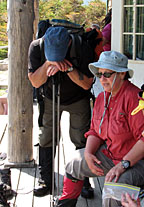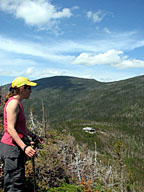 At around 3300' we encountered the first patches of snow. It really wasn't until we hit the Garfield Ridge trail that there was any sustained snow, but even then it was nothing you couldn't handle with bare boots. Meri and Nancy had long since sped ahead of me, so I found Pat and Teejay just before the hut and finished with them. We dumped our food loads on one of the tables, grabbed low altitude bunks, and changed clothes as appropriate. After a rest and some porch silliness, we looked around for something else to do that afternoon. Meri, Nancy, and I decided to head up to Galehead and then hang out on the view. It only takes 15 minutes to hit the uneventful summit of Galehead, so we quickly dropped down to the outlook where we practiced lounging. After a little while MEB showed up and hung with us for an extended lounge.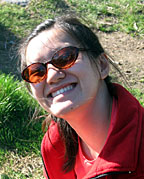 Back to the hut and an odd interlude of yoga and gymnastics on the lawn let to some steller photo ops. Then is was time to get ready for dinner. J&J, who had done the day's most obscure peak bagging of East and West Garfield, brought a variety of fun foods to play with. Crackers, cream cheese, parsley, goldfish, Old Bay seasoning, make for excellent artistic canvas, and our participants took full advantage. Bunchberry was generally considered to have won with her excellent representation of John. Seema had been working all afternoon in the kitchen with a team of sherpas preparing our fantabulous Thai dinner of Tom Yom soup, Drunken Noodles, and Pad Thai, which was consumed with great gusto. After a fine sunset, we finished dessert and started the many hiking related conversations that we are rampant in this group.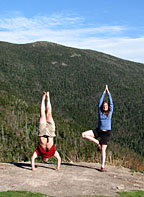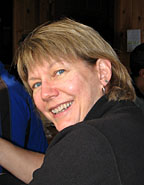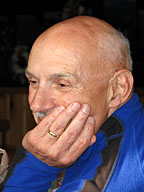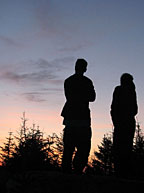 We had a slightly later night then the rules allow (thanks Vinny) and crashed for the night. Sometime in the wee hours of the morning UFC got up and headed out for Flume by headlamp. The rest of us took a more liesurely start setting out for the Twins, Bonds, or 13 Falls. I headed up to South Twin with MEB and Bunchberry under fairly nice skies. There was some ice on way up that caused us a little trouble but again, nothing that required traction devices. Near the top of South Twin we got a few sprinkles but they quickly dissappated. There were a few other groups up top, most headed to Zealand. Meri and Nancy had gone through earlier towards the Bonds. We were a little unsure about going on to North Twin but the skies weren't threatening so off we went. An added incentive was this would be Bunchberry's 42nd 4000'ers.



On the way over I noticed that Bunchberry's boot sole was barely attached to her boot upper. A little duct tape later and we had a workable solution. Onward we went and found some deep snow (up to 4-5 feet) but it remained hard enough that we didn't posthole. On our second summit of the day we had a small celebration for Bunchberry and ate our lunches, topped off with Girl Scout Cookies and dark chocolate. It was a bit colder and more threatening, but the views were quite dramatic. We worried a bit about UFC since it looked like it was raining already on Franconia Ridge. We hunted around for the true summit for a bit, then headed back towards South Twin.






On the summit of South Twin we ran into Wendy and Jim. I lent Wendy my softshell jacket as they were going to North Twin and it was begining to rain. We didn't hang around too long and instead headed back to the hut. The trip down was slippery and slow, and the rain falling didn't help. MEB had considered heading to Guyot but the rain put an end to that. Instead she headed down to 13 Falls; those amazing Mean Girls. At the hut we started helping out with dinner prep for the nights Indian meal. Again, Seema pulled together a fantastic repast and we all ate and ate and ate, sharing our excess with the croo and other guests. The sunset wasn't as spectacular as the previous night and we hung around until after lights out since we were all going our separate ways the next day.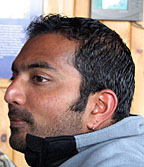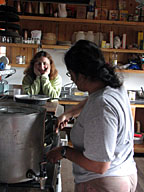 Monday dawned clear and warm and people quickly started packing up and heading out. I headed out with Meri and Nancy and we played leapfrog with a few other groups on the way out. I had to take some trillium photos, something I do every spring. There were still some interesting stream crossings but when it's warm and you're on the way out that feels pretty good. We were out before noon and quickly went on our ways; another fine gourmet weekend thanks to Seema and Brian!