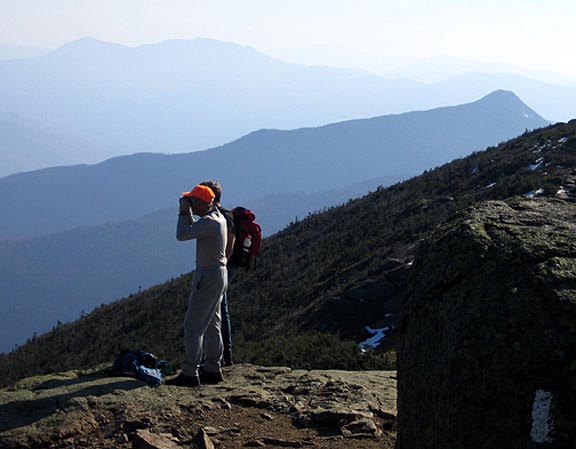 Franconia Ridge Loop - Nov/5/2005
I didn't have plans yet for the weekend and Nick sent me mail asking if I wanted to hike Franconia Ridge to scout ski lines for the upcoming winter season. There are several nice slides on Lincoln and Lafayette that can be skied, if the snow is just right. I'm not sure I'll ever ski them, but it's fun to check them out. After a bit of phone tag, Jas and I agreed to meet at the Park & Ride on I-93 at 6:15 AM for the drive north. We meet Nick at the White Mountain Bagel store in Lincoln, NH and grab some lunch food and drive up to the trailhead by Lafayette Place Campground.
There were a bunch of cars in the lot, and several groups getting ready to head up. We elected to leave snowshoes but Nick and I are carrying crampons. The weather is chilly but it's clearly warming up and the sun is bright. We peeled off a few layers as we climb the Falling Waters trail, getting passed by a bunch of younger, faster hikers. The waterfalls were flowing pretty heavily along the trail due to all the melting snow that we wouldn't have to posthole through. We stopped at Shining Rock to scout around a little; as it turns out neither Jas nor Nick had ever hiked the Franconia Loop, so this was all new to them. We got some food and water, and got ready for the final climb to the ridge.

A little further up we crested the ridge and arrived at the summit of Little Haystack. As expected, it was a great day. Once up top, we could appreciate the day for the wonderful weather. We took a brief stop here and planned on having lunch on Lincoln. There were a lot of folks on the ridge, most ahead of us and going to Lafayette, like us. The views into the Pemi were spectacular as usual, with little snow locally but obviously lots on the Presidentials. I was getting a bit hungry and wasted, so I went on ahead so I could start lunch.




After lunch we kept on going towards Lafayette. Along the way a group caught up to and passed us. As they did, one of the group said "Are you Dave?" "Are you Sue?" It was a group from VftT including Stinkyfeet, Artex, Frodo, Sir Edmund, and Jessbee who were doing a slightly longer hike, up Flume Slide, across the ridge, and down Garfield. We stopped and chatted for quite a while, ensuring that they'd be even later getting out. While we talked, a few F-15s were flying overhead. Then, a C-130 cargo plane came cruising down Franconia Notch then curled around Lincoln and sauntered across the Pemi. I've seen lots of Air Force planes in the Whites, but this was a first. Very impressive.




On to Lafayette where we caught up to the super group lounging on the summit. We shared some dark chocolate (the only kind) and wished them luck. It was about 2:00 when we started down. I was supposed to be at a dinner party in Lexington that started at 5:00, so the question was how late would I be. We dropped down towards the hut, through the few remaining snowfields. We could see the super group cruising over North Lafayette as they continued north. We paused only briefly at Greenleaf and continued down. We got to the cars at around 4:30 did a quick pack up and change then hit the road.





---