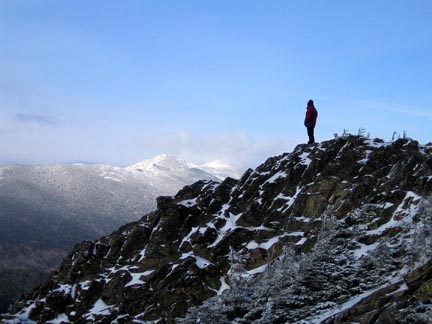 Mt Flume via the Osceo Trail - Nov/19/2005
I was headed up to VT for the 17th or so anual Thai-Tie party on Saturday night, so a hike during the day seemed like a good fit. Amy had been looking to get out on a hike that actually had views so we choice Flume and Liberty, as they were a relatively short drive from Boston and they offered nice views without much travel above treeline. Snowshoes were left in the car, Amy brought her Stabilicers, I had my heavy leather boots. We pulled into the trailhead parking at Lincoln Woods within 10 seconds of each other at 8:30. Or original plan had been to drop a car there and drive around to Liberty Springs, but for a variety of reasons we elected to just hike up Flume instead. The roundtrip was going to be 11 miles. I ran into the ranger/visitor center to buy a new WMNF parking pass and noticed that his car had a VftT sticker; Hi there.
We crossed the suspension bridge and started hiking right around 8:45 AM. The first 1.5 miles are along the Lincoln Woods trail, flat and straight. That went quickly enough, with occasional stops to look at the odd ice formations in the streams along the way. It was around 20 degrees, but temps were begining to rise and we warmed up. At the vandalized sign for the Osceo trail we headed towards Flume, slowly gaining elevation. The trail is gentle at first, then leaving the old logging road and climbing through a series of switchbacks. A few folks passed us along the way, we weren't setting any speed records. A woodpecker or two seemed to follow us up the trail, flitting from tree to tree in search of an early morning meal(.6M video).
After the first of the ladders/stairs we hit the "downlook" with views out across the Pemi. Amy had been feeling under the weather all day and she decided to turn around at that point. She was going to put her Stabilicers on for the descent, I was going to continue to the summit. A few more flights of stairs later and the trail leveled out for a bit as I gained the ridge. For the last .3 miles the trail climbs steadily to the summit. I saw tracks coming up the Flume Slide trail then ran into three of the hikers who had passed us on the way up. They had just summitted and were dropping off the exposed top and into the trees for lunch. There was one guy up top and we said hi as I put on an extra layer. It was a gorgeous day; the flurries we'd seen down low had given way to blue skies, little wind, and temps up around 30. I'd pushed it a bit trying to summit quickly and make it back down to Amy so I wolfed down some food, drank a liter of water, and gingerly started down the icy path.





Back at the junction with Flume Slide the three downhikers had met up with two somewhat confused fellows who'd just come up it. They had bit off a bit more than they were comfortable with, but survived to live another day. We chatted a bit about VftT and other things, then I took off. The top part of the trail was slick in places and I took my time. Then Larry caught up to me and we settled into a fast pace. We didn't see many folks on the way out, just a few parties headed in for overnights and some casual walkers. At the car I found a note from Amy saying she'd made it but wasn't feeling well so she started home. I changed in restrooms at Lincoln Woods, which are heated by wood stoves, and headed to VT.


---