Cannon Group Trip - 16/Oct/97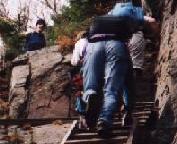 Like last year's trip this year's group outing was a great success. We chose Cannon because it was a nice hike, had facilities up top, and had a tram for people who didn't want to hike. We met in the Lafayette Place Campground parking lot around 9:00 and quickly started up the leaf filled trail. We chose to go up to Lonesome Lake and then take the Dodge Cut-Off to the Hi-Cannon trail. Once we reached the lake, checked out our route, and snacked, we headed out again. Some folks with dogs took the Cascade Brook trail to the ridge to avoid the ladder. Just past that, there are some nice ledges with views down to Lafayette Place, across to the cloudy Franconia Ridge and down to Lonesome Lake.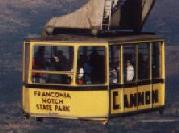 After that it was a steady climb to the summit. The weather cleared as we went so that by the time we reached the summit building the views were very nice. Looking to the north, we could see the old Taft Ski run. After a short, cold stay on the observation platform, we headed over to the tram building for lunch. The few folks who went the other way arrived soon after us, as well as the people who came up the tram. Unfortunately, they didn't allow dogs in the building, so the owners had to settle for lunch al fresco.
After lunch we gathered for a group photo in front of the tram building. Then we headed around the Rim trail, a short trail around the summit that has more wonderful views. We stopped for another group shot along the way. Then we headed down the Kinsman Ridge trail. Some sections of this were quite steep and nasty, leading to a few small spills but everyone made it all right. At the junction with the Around Lonesome Lake trail, one group decided to take a quick tour around the lake while the other agreed to wait at the Dodge Cut-Off junction. The first part of the trip around the lake is on timber puncheons to get through the swampy areas. This leads to great views of the now clear Franconia Ridge. We passed the closed hut which was undergoing some end of season construction and met up with the rest of the group. Then it was a quick descent to the campground where we caught some last views.
Pictures by Jeff Sullivan and David Metsky.
---