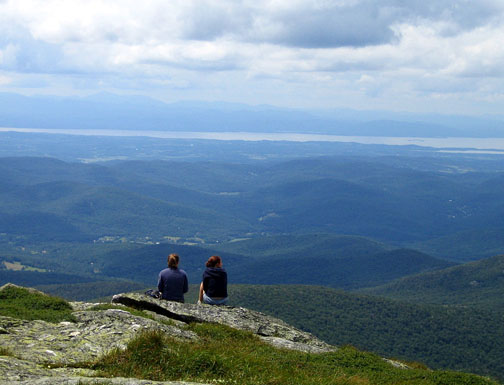 Camels Hump day hike with Amy - 14/Jul/07
On Thursday I won excellent tickets to that evening's Sox game and Amy (GetawayGirl), who is my Red Sox buddy, was available on 6 hours notice. On Saturday we elected to expand beyond the 48 as she is starting her work on the new England 67 in VT. Camels Hump was the easy choice for a nice day since she's already done Mansfield and we wanted to get views on the nice day.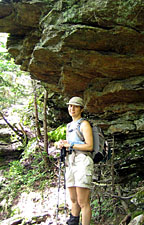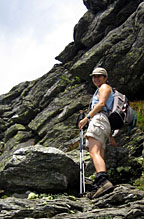 With a late start from Boston (met at 7:15) we were at the trailhead by 10:15 and on the trail a few minutes after that. It was warm but not overwhelming, although the bugs were somewhat annoying. The hike up as fine, taking the Monroe to Alpine trails so we could visit the bomber crash and our first view. My uncle was a navigator on B-24s out of the same base (Westover) at that time and he may have trained with these men. After a short rest there we headed up the Long Trail and onto the fun ledges. We didn't see many people until then, but lots of folks were headed back down the Forest City trail. Some were looking for the Burroughs trail which is on the other side of the summit and I didn't have my map handy so they must have had to deal with going back down Forest City.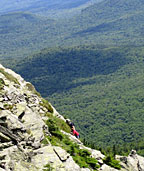 The summit was crowded but not so much as to be oppresive. We had a nice lunch, helped some guys with blisters (when I carry my F/A kit I want to use it) and sent them over to find the plane crash, and took our share of photos. It was hazy in the distance, not a good day for spotting all the Daks. We looped over the summit and down the Monroe trail which seems to be my normal loop, and we were back at the car by 4:05.
We stopped for dinner at the Common Man in Concord, watched another Red Sox victory on TV, and had an easy drive home. Who could ask for more?