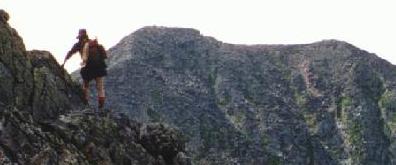 Baxter State Park - 23/Aug/97 to 29/Aug/97
This trip was a weeklong dayhike and backpacking trip to Baxter State Park, home of Mt Katahdin, in northern Maine. This was my second time on this semi-occasional yearly journey that several friends have done before Labor Day weekend. The weather wasn't perfect, but the one day it really counted we had sunny skies.

Many of the pictures from this trip are large. Please be patient waiting for them to load. Photo credits are David Metsky and Brenda Conaway.
The Trip
---